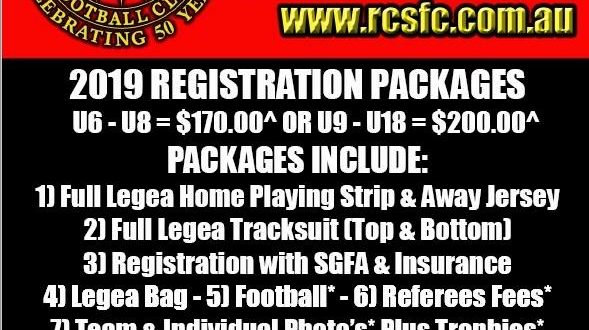 2019 JUNIOR REGISTRATIONS NOW OPEN!
Rockdale City Suns Junior registrations for 2019 are now open.
We are looking for plenty of boys and girls, aged 5 years and upwards, including all age mens and women, to join our Club for the 2019 season.
All players receive official Legea gear as well as a range of other benefits. Our packages are comprehensive and playes can take advantage of the NSW Government's active play rebate scheme.
Get in early as places will fill fast.
WHAT DOES MY REGISTRATION INCLUDE?
This years 50th anniversary registration package, gear provided by our 2019 apparel partner Legea Australia – 1300 4 LEGEA incorporates a special 50th anniversary full tracksuit for all participants, a retro red 50th anniversary Jersey as well as yellow away jersey where needed, in addition to the usual black shorts, socks, backpack, ball*, photos*, trophy*, ref fees*, as well as insurance and registration with SGFA.
*for all participant U6-U18, all age and O35s packs per previous years with regards to balls, trophies, photos and ref fees.
HOW TO REGISTER?
Step 1: OBTAIN YOUR ACTIVE KIDS REBATE NUMBER
All players eligible for the active kids rebate are reminded to apply for the rebate prior to registering, via https://sport.nsw.gov.au/sectordevelopment/activekids?fbclid=IwAR3iWaACs-UAmMUKDuQLd1A6XDRgSlTAsufx3gQz1l_rbwUO0ep8o5QH8Bw
We will not be accepting short payments and chasing voucher codes at a later date this year. Any player without the completed active kids rebate will be required to pay the full amount before we will accept the registration.
Step 2: REGISTER ONLINE
The Registration system has changed for 2019, all participants will need to link their old My Football Club account with the new Play Football account via: playfootball.com.au
Complete the online registration, pay online and then print or save your receipt of payment.
Where can I go if I need help with my online registration?
If you have any trouble with your registration you can use the following resources in order of preference:
Visit PlayFootball Support Pages: View the Player Registration guides and videos available on the PlayFootball Parent & Participant Support Page
Contact Club Registrar: If you are still experiencing problems with registration please email the RCSFC Registrar vicki@rcsfc.com.au
Attend the Registration Support Day: 2nd and 3rd February 10am – 2pm at the Rockdale Ilinden Sports Centre – 468 West Botany Street, Rockdale.
Step 3: ATTEND THE REGISTRATION SUPPORT DAYS TO GET SIZED UP
2nd and 3rd February 10am – 2pm at the Rockdale Ilinden Sports Centre – 468 West Botany Street, Rockdale.