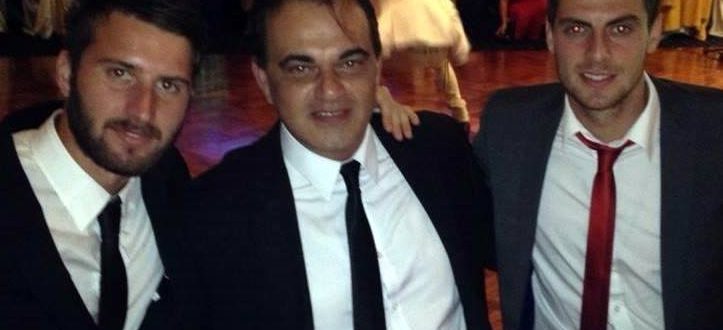 Jim Stefan Celebrates 24 Years of Work in the Entertainment Industry
February 27, 2017 – By Mark Henderson – (Sydney City Buzz e-Magazine)
Rockdale City Suns FC Board Member, Jim Stefan celebrates 24 years of work in the entertainment industry. Spanning over 2 decades, Jim Stefan's track record of achievements in the entertainment arena is extensive. Formerly the Publisher for the Sydney Tribune Newspaper, which was the official newspaper of the Sydney CBD and the Sydney Journal Magazine, Jim Stefan culminates vast knowledge and expertise in media.
When Jim Stefan first entered the entertainment industry, during his time as a newspaper publisher, he had already aligned with some of the biggest players in the world of journalism and media distribution. Whether it's with film, TV, print, music, fashion or performing, Jim Stefan takes projects large and small to the next level.
As CEO and Executive Chairman of Lloyd Harrison Entertainment Group, Jim Stefan oversees the implementation of a wide-range of strategies for high-profile entertainment brands and projects.
Since Jim Stefan saw the impact of the changing face of media and entertainment during the 1990's, he's been at the forefront of the entertainment industry's leading edge since embarking upon his career in TV, film, fashion and music. Jim has worked on a number of film and TV projects as an Executive Producer with awards for the Hollywood Film 'Stranger at the Pentagon', directed by Emmy-nominated Director Craig Campobasso and Australian award winning film 'What If' to name a couple.
Jim Stefan is also the CEO of EMPV Modeling & Talent Management. EMPV  is a subsidiary of Lloyd Harrison Entertainment Group and represents high-caliber celebrities, models and actors, including women, men, and kids.
Working to connect the best TV, film, fashion and music resources with buyers has been a trademark of Jim Stefan's 24-year career in the entertainment industry.
"I have always had a keen interest in developing and growing businesses that benefit all parties involved, and I'm very grateful to all those who've helped make these past 24 years a highly rewarding experience." says Jim Stefan.
While Jim Stefan is most known as an entertainment industry leader and former entertainment venue owner, he is also highly involved with charities. Jim Stefan is a philanthropist who has made significant contributions to a number of foundations, including the Lung Foundation of Australia and the Homicide Victims Support Group in NSW. He has been a quiet benefactor of causes that are close to his heart for many years. During his years as a Senior Vice President of the ALP in NSW in the 90's, Jim Stefan was one of a handful of Government lobbyists to have the 'Truth in Sentencing' laws successfully changed, assisting his long-time friend the late Garry Lynch, father of murdered Sydney nurse Anita Coby. Jim has also been an active and well-respected activist for Australian-Macedonian Community since the early 1990's.
Jim Stefan majored in marketing and holds a Business degree and a degree in Social Science with a major in emergency management. Jim greatly values his education and says that he uses his degrees on a daily basis.
"There is no doubt I have received many benefits from having earned my business degree. I often recall information and helpful tools I learned during my education when working on a project or having a brain-storming session." says Jim Stefan.
Highly esteemed in Sydney, Australia also for his past popular entertainment venues, many of which were operated directly by Lloyd Harrison Entertainment Group, Jim Stefan is also known in his community as an advocate of youth football.
"Youth sports are a valuable asset to any community", says Jim. As a former player, EUFA B licenced coach,  committee member of the Rockdale City Suns FC and a Government Advisor, Jim has been a supporter of youth sports for many years, seeing first-hand involvement with teams and coaches can benefit young sportsmen and women by providing positive influence and skills towards their development and growth.
"When a child becomes a member of a sports team for the first time, they may be faced with facets of life that they have not yet experienced at the level at which they do as a member of a competitive sports team". According to Jim Stefan, "learning how to work well with others is one of the biggest assets that youth sports provides and we encourage that every day at the Rockdale City Suns club".
Young sportsmen and women make for good examples in their communities, and often maintain the spirit of working well with others within their daily lives. Jim believes that all parents should consider the benefits that youth sports can provide to the lives of their children. "One of the most significant advantages that youth sports can provide children is the instilling of essential life principles", says Jim Stefan.
Jim Stefan offers his ongoing support to his community's football clubs and organisations. Stefan has worked tirelessly over many years to improve the conditions for local sports team in NSW and recently negotiated a major deal with Liverpool Council to secure a more permanent home ground for the Western Sydney Wanderers Women's teams. Jim is also a proud foundation partner of the Western Sydney Wanderers Football Club.
Original article 'Western Sydney Wanderers women call Liverpool new home' can be seen here. 
Formerly known as Jim Stefanovski, a proud Macedonian-Australian, Jim Stefan is a media & entertainment mogul who has had a hand in virtually every aspect of the entertainment business and football development in our country. Entertainment and media have grown increasingly intertwined during Jim Stefan's entertainment industry career. "These past 24 years have been full of opportunities to adapt. Many entertainment entities have faced the reality of either making significant changes to their strategy or fading into the abyss. As far as the football (soccer), I will always be around to promote the game as much as I can and will never allow that to fade away" says Jim Stefan.
This article was originally published by 'Sydney City Buzz' . Republished by RCSFC with permission.