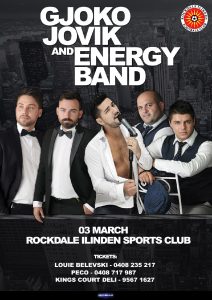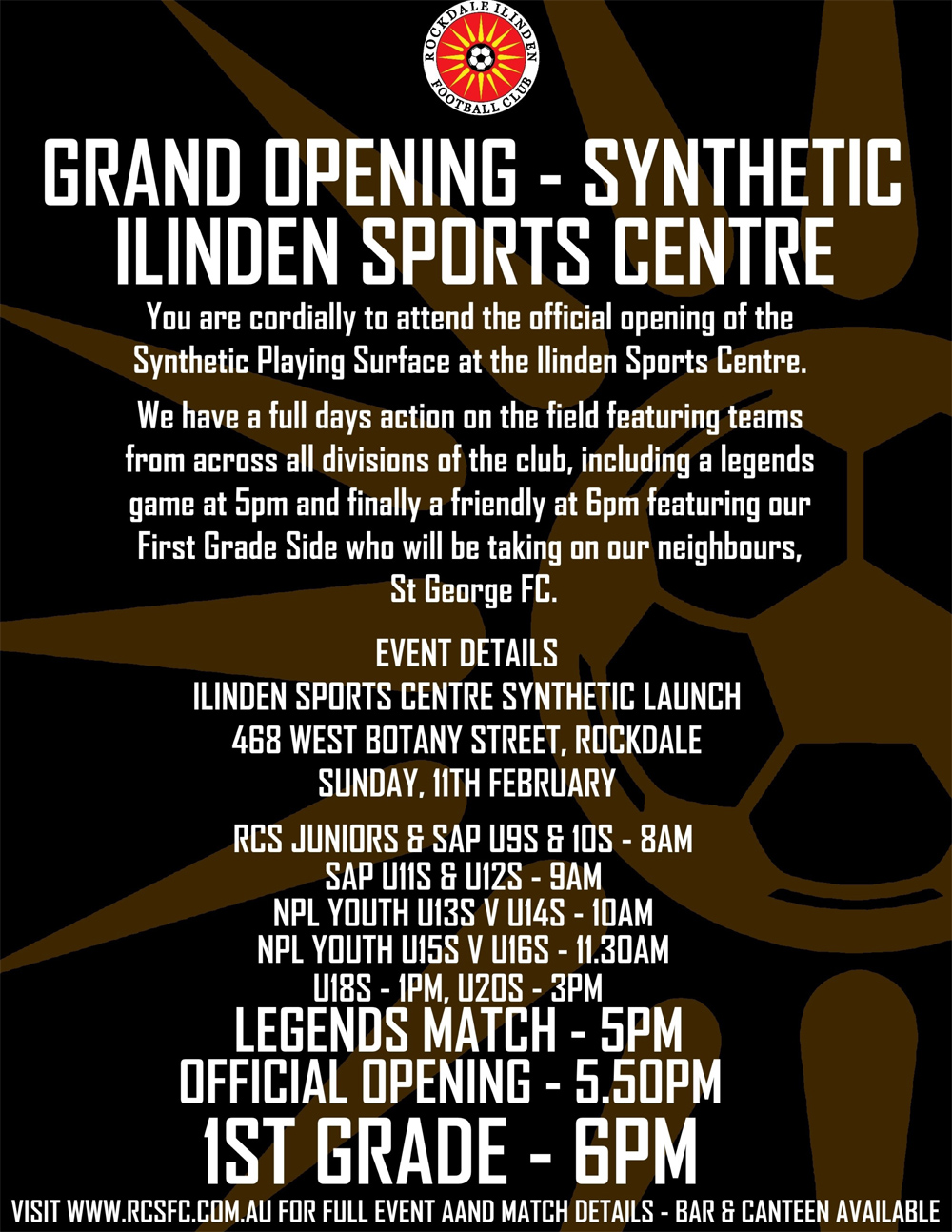 2017 'Grading' Information – 20 February 2017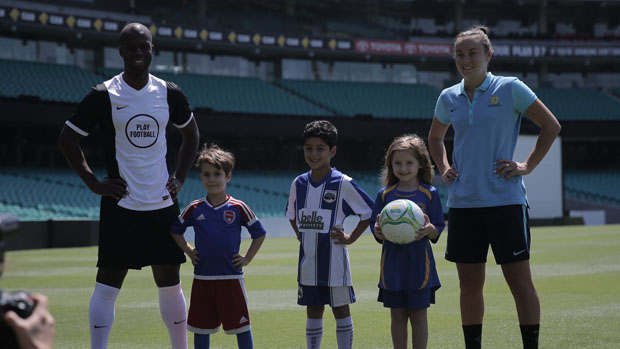 Welcome to Rockdale City Suns Juniors for season 2017. 
We hope your child thoroughly enjoys playing the world game with our Club. This letter is aimed to provide you with some important information on the day to day running of the Club and to advise you as to what's ahead.
GRADING NIGHT- MUST ATTEND
By now, you should have completed your registration, paid your fees, and selected your gear size (If you attended the gear sizing days on Feb4 & Feb11. For players who are already allocated to a team, please liaise with your team coach to confirm training times.  For all other players, please note that the first training/grading nights will be as follows:
Under 6: Monday 20 Feb – Bicentennial Park East start @5:15pm (Midi Field)
Under 7: Monday 20 Feb – Bicentennial Park East start @6:00pm (Midi Field)
Under 8 & 9: Tuesday 21 Feb – Bicentennial Park East start @5:15pm (Midi Field)
Under 10 & 11: Wednesday 22 Feb – Bicentennial Park East start @5:30pm
Under 12 Boys and Girls and upwards:
Thursday 23 Feb – Bicentennial Park East start @5:30pm
Players are asked to come ready to train. That means, shin pads, boots & a water bottle. All players are to meet at the front of the canteen. There will be club representatives responsible for each of the nights.
At the first training/grading night, players will be allocated into teams. Some teams have coaches. As is the norm in Junior football, we will be asking parents to step forward to coach some teams. Please consider this. It is only one training night per week and one-weekend game.  We will provide coaching tips & advice to all new coaches, via our new Technical Director (TD) Christopher "Kiki" Naumoff, for those that would like to receive the help.
Thereafter, teams will work out training times.
TRAINING NIGHTS
Our Juniors train on a Wednesday night. Due to demand for our fields, this is unlikely to be changed. Non-Comp U/6-U/11 5:00pm-630pm & Comp U/12 & up 6:30pm-8:00pm (or earlier should the coach choose to finish earlier)
CLUB POLICIES
We have a number of policies at our Club that all players and parents must abide by.
Our key policies include the following:
We will not tolerate breaches of either our Club Code of Conduct (located on our website), or any other anti-social behaviour. Football is meant to be enjoyable. No bullying, no foul language.  Do not take matters into your own hands. Any incidents are to be immediately reported to Club President Goce Trajkovski. They will be kept confidential.
BY REGISTERING WITH OUR CLUB YOU ACKNOWLEDGE THAT YOU HAVE READ AND AGREE TO BE BOUND BY THE CLUB'S CODE OF CONDUCT
We do not offer refunds unless at the discretion of the Club.
We expect all parents to assist with fundraising and in particular by selling their allocated raffle tickets for the annual club raffle.
GROUNDS SET UP & PACK UP
First team on each field will be required to setup fields.
Last team off each field will be required to pack up that field in a neat manner, & put away the gear in the Jrs container or in the canteen storage room.
Individual teams will be advised, as to set up & pack up duties, throughout the season by Committee members, via email on the Thursday or Friday of each playing week.
CANTEEN
We are one of the few fortunate clubs to have full-time canteen staff, but should the need arise for more help, we may be asking teams to assist one week during the season with canteen duties.  When it is your turn, please help out.
Other details will be provided by your relevant team coach or manager.
Check the website for information about the club and events.
In the meantime, if you have any queries regarding the new process or any other matters please email George (Goce) Trajkovski: goce@optusnet.com.au
I wish you and your families all the best for the season ahead and we look forward to an enjoyable and successful 2017 on the pitch. Please spread the word regarding our registrations to your friends and family and get in early.
WE NEED SPONSORS!
ARE YOU IN A POSITION TO SPONSOR OUR JUNIORS? IF SO, PLEASE LET ONE OF OUR COMMITTEE KNOW AT OUR JUNIOR REGISTRATION DAYS.
GREAT PACKAGES AVAILABLE AND ALL FUNDS GO TOWARDS THE JUNIORS.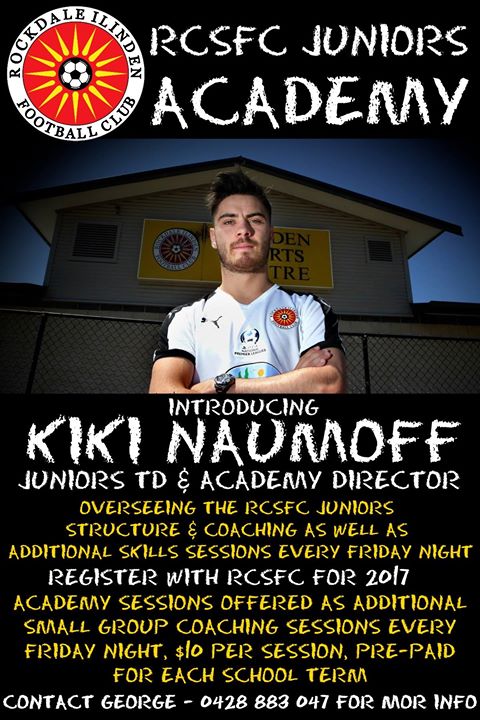 ONLINE REGISTRATION PAYMENTS FOR THE 2017 WINTER SEASON:
U/6-U/7 $240.00
U/8-U/17 $270.00
U/18 – O/45 $340.00
Account Name: Rockdale Ilinden Soccer Club
BSB: 082-184
Account No: 617652746
Reference: Player first & Last Name
(IE: SteveKotevski)
ACADEMY & SKILLS SESSIONS
Please visit www.rcsfc.com.au for more info regarding the skills sessions & registration forms for the extra skills sessions in the next couple of weeks.