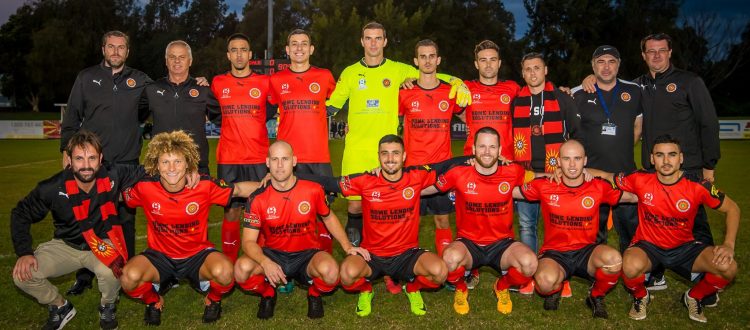 Experience Paves Way for Suns Victory 
Rockdale City Suns cruised to a 2-0 win over Sydney FC in their PlayStation®4 National Premier Leagues NSW Men's Heritage Round match at Ilinden Sports Centre on Sunday afternoon.
Goals from Brayden Sorge and Aleksander Canak either side of halftime ended a run of three straight losses for the home side.
Sydney FC might have pulled a goal or two back after an improved second half performance, but Rockdale were well worth their win, and held their opponents out for a clean sheet and three crucial points.
The result consolidates Rockdale's position in the top five as they finish the round in fourth position on 24 points.
Rockdale took control of the match from the first whistle, and had an early chance fall to Steven Hesketh, who sliced his shot well over the crossbar. They went closer through Jordan Figon soon after, the striker leaping at the near post to flick a header onto the top of the crossbar and out for a goal kick.
Sydney FC soon caved, and went behind in the 24th minute to a goal from Sorge, who surged through a cluttered penalty area to head a bouncing ball across Mitchell Evans and inside the far post.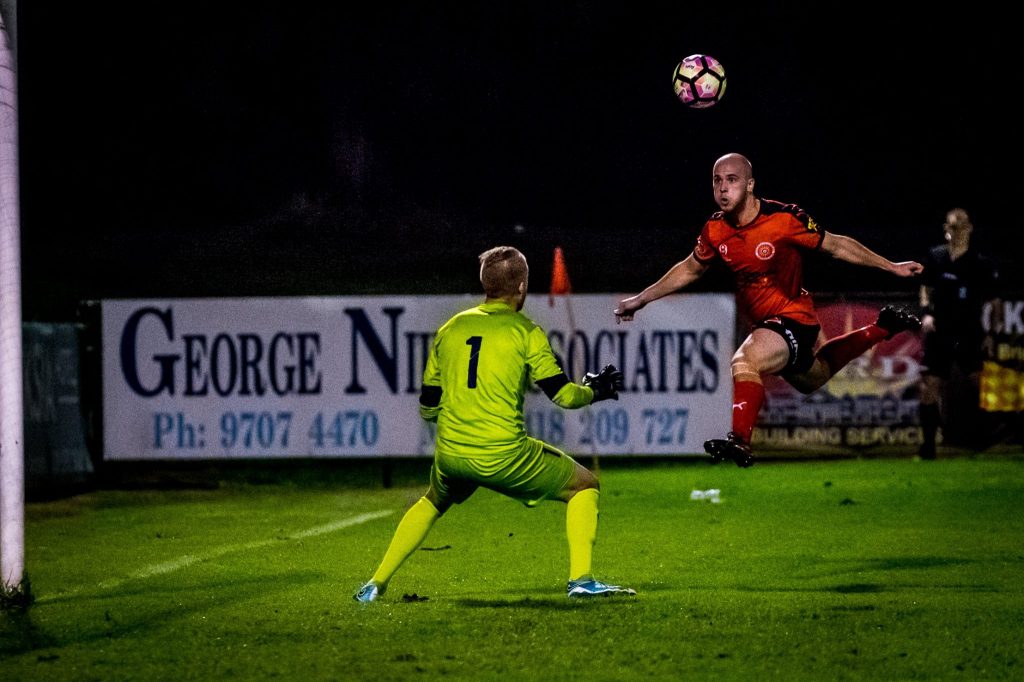 There was no immediate response from the visitors, and Rockdale continued to roll forward. Harris Gaitatzis saw his shot saved well by Mitchell, while Alec Urosevski found himself clear in on goal before taking an awkward touch which dragged the ball out wide and spoiled the momentum of the attack.
Gaitatzis had a final opportunity to add to his side's lead before the break when he was played in cleverly on the edge of the box by Urosevski, but he blazed his volley over the bar to leave Rockdale just a goal ahead at halftime.
Rockdale picked up in the second half where they left off in the first, with Urosevski strolling past a few defenders on the right side of the box before rolling a shot into the side-netting from a difficult angle.
Sydney FC looked a changed side in the second half, and Chris Zuvela might have pulled his side level ten minutes into the half when he picked up possession on the edge of the box and opened up an angle for a shot, but he could only slice the ball over the crossbar.
It came as a blow to the visitors, then, when Rockdale doubled their lead just as their opponents looked to be coming back into the match. Canak carried the ball to the edge of the area before hitting a low shot inside Mitchell's right post, giving the home side a two-goal advantage with just over half an hour to play.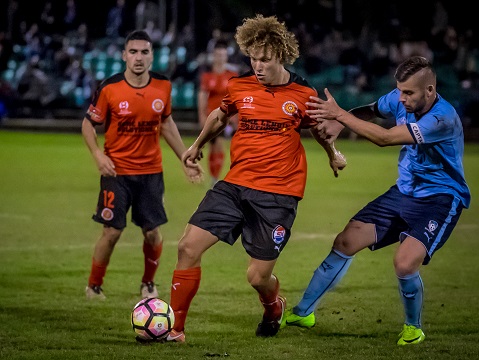 Sydney FC were buoyed by the arrival of Juan Zapata, who replaced the injured William Mutch on the hour mark, and immediately set about putting his mark on the match. Cristian Gonzalez sent a free kick flying over the bar before the Sky Blues hit the woodwork twice, Daniel Maskin and Chris Zuvela smashing shots against the post and crossbar within seconds of each other — but still, Sydney were unable to find the net.
Jonathan Grozdanovski entered the fray late and had a chance to seal the win for Rockdale when he led a counter to find himself one-on-one with Mitchell Evans for 3-0, but the goalkeeper rushed out and made a solid block to deny the young striker the final say of the night.
Rockdale City Suns' Paul Reid was understandably satisfied with the win.
"We've been in a bit of a slump, and today we were dominant from the start and put in one of our best performances of the season," he said.
"Keeping a clean sheet is always nice, but we applied ourselves well today and stuck to the game plan against a good team. We thoroughly deserved to win today – it might've been by a few more in the end but I'm more than happy with a 2-0 result."
Sydney FC's Rob Stanton looked to draw on the positives after his side's first defeat in a month.
"In the end, their experience showed – I'm happy there was grass on the pitch, but it's a pretty bumpy pitch and we're not used to that – they are, and they deserved to win," he said.
"There were a few moments where we switched off and we paid the price – we were much better in the second half, but there were times when we made the wrong decisions and weren't compact enough in defence. But it's a learning curve, and I'm happy that we can come away from this with a few lessons for next week."
Match Stats
Rockdale City Suns FC 2 (Sorge 24′, Canak 56′)
Sydney FC 0
Sunday, May 28 2017
Ilinden Sports Centre, Rockdale
Referee: K. Patterson
Assistant referees: N. Backo and P. Teleki
Fourth official: M. Bailey
Rockdale City Suns FC: 22. COVIC Ante, 8. CANAK Aleksander, 12. EL HAFIANE Idriss, 23. FIGON Jordan (11. GROZDANOVSKI Jonathan 23′), 10. GAITATZIS Harris (21. LOUPIS Michael 90′), 3. HESKETH Steven, 4. MCCLENAHAN Trent, 6. RICCIUTO Blake, 16. SAVOR Isaac, 14. SORGE Brayden, 7. UROSEVSKI Alec (17. ALAMEDDINE Toufic 78′)
Substitutes not used: 1. BRADASEVIC David, 13. NORVAL Tobias
Yellow Cards: Savor 34′, Ricciuto 52′
Red Cards: N/A
Sydney FC: 1. EVANS Mitchell, 21. AGAMEMNONOS Andreas (18. AVERY Aaron 85′), 11. ARDITTI Christopher, 3. FLOTTMAN Patrick, 38. GONZALEZ Cristian, 5. GREEN Matthew, 6. KULESKI Nicola, 12. LOKOLINGOY Charles, 39. MCGING Liam, 16. MUTCH William (8. ZAPATA Juan 60′), 17. ZUVELA Chris
Substitutes not used: 4. GOLLAN Alex, 20. HEWARD-BELLE Thomas, 7. MASKIN Daniel
Yellow Cards: Green 17′
Red Cards: N/A
Player Ratings
3 – Blake Ricciuto (RSSFC)
2 – Jordan Figon (RSSFC)
1 – Aleksander Canak (RSSFC)
–By  PlayStation®4 National Premier Leagues NSW Men's reporter Max Grieve
Photos of the Rockdale City Suns Match against Sydney FC can be found by clicking HERE
Team of the Week for Round 12 of the #PS4NPLNSW Men's – With another successful 'Heritage Round' all but over, there were a number of notable performances from the weekend with the Wollongong Wolves Football Club chiming in with three representatives as Patrick Antelmi, Josh McDonald and Darcy Madden all had solid performances for the club. Special note to APIA Leichhardt Tigers FC keeper Luke Turnbull who was solid in the Match of the Round victory over Sydney United 58 FC as well as the Sydney Olympic FC pairing of Jason Madonis and Radovan Pavicevic who also got their names on the coveted 11 list for this week!