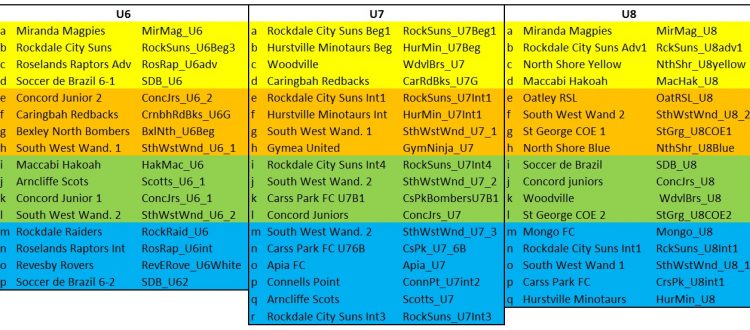 Our U6s, U7s & U8s Gala Day remains on schedule despite the current Sydney weather. The forecast is for clearer days later in the week, we will contact each of the Clubs should anything change.
Below are the Groups and Draw, and each Club will soon receive these via email.
All teams are reminded they need to be at the ground at least 1 hour before their scheduled kick off to check in and receive instructions for the day.
A reminder that permissible on the playing surface only will be 1 coach, 1 manger (2 adults per team only) and the playing team. All parents and additional managers will need to remain behind the fence or in the grandstand.
Due to space availability, warm up fields will be located our our adjacent training fields or on the 3 hills in the stadium. During the breaks and energy rounds, teams will be permitted to warm up on the stadium playing surface.
Gala Day 2016 Final Schedule050816