LATEST NEWS – 26 APRIL, 2017
Hello All 2017 RCSFC Juniors- Players/Parents,
It is with pleasure to announce that the 2017 Winter Academy will begin this Friday April 28th at Bicentennial Park East (Our Home Ground)…
The Skills/Academy sessions will be run by our well-esteemed Juniors Technical Director (TD) & EX Sydney FC star Chris Kiki Naumoff…
We are honoured to have Kiki on board & we are overly confident that his appointment as Juniors TD & head of the Juniors Academy, will lead to a stronger player base in the SGFA, & a better football culture within the RCSFC Juniors Player roster…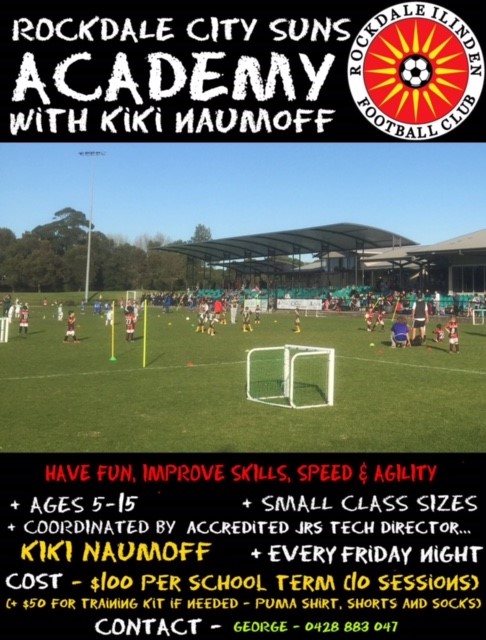 Winter Academy Sessions will run as follows, every Friday night of the public school terms 2 & 3:
U/6-U9 = 4:30pm to 5:30pm
U/10-UU15 = 5:30pm to 6:30pm
COSTS:
$10.00 per session payable upfront for the whole school term. (10x week term = $100.00)
$50.00 for compulsory training uniform. It's the same yellow training kit as the 2016 academy. So if you/your child already has a training kit, & you don't need a new one, please ignore the uniform component fee on the rego form.
REGISTRATION PROCESS & TERMS:
1) Download, print & fill out the attached registration form
2) Scan it/Take a quality picture of it with your phone & email to the Junior Club President – George Trajkovski.
3) (I)Email the form along with proof of EFT payment to: goce@optusnet.com.au
3) (II) should you choose to pay in cash, email the form back with the quote TO PAY CASH ON FRIDAY. In this case, any cash payments must be made on Friday…
4) Should your child fail to show to a session, there will be no catch-up session.
5) Should wet weather/illness hinder any sessions, a makeup session will be held in school holidays, & if you can not attend these make ups, there'll be no further makeup sessions to accommodate the originally missed sessions.
6) All forms & EFT payments need to be processed by "Close Of Business" this Wednesday 26/04017, in order for us to confirm your child's place in the Term2/2017 program.
7) All forms that will be accompanied with Cash Payments on Friday, must be processed by COB this Wednesday 26/04017, in order for us to confirm your child's place in the Term2/2017 program.
8) Until such time that the training kits arrive, participants are free to use any uniform they choose to use…
WE hope to see as many of our juniors as possible sign up to this initiative.
We are very fortunate to have this program, as there's no other club in the SGFA with this sort of program or any club with a dedicated TD to help out with the Jrs teams…
I personally recommend all newcomers to football, join up, as this program will help beginners catch up to the intermediate players, that have played for a few years…
Please find forms attached below…
Kindest Regards,
George (Goce) Trajkovski
RCSFC Junior Club President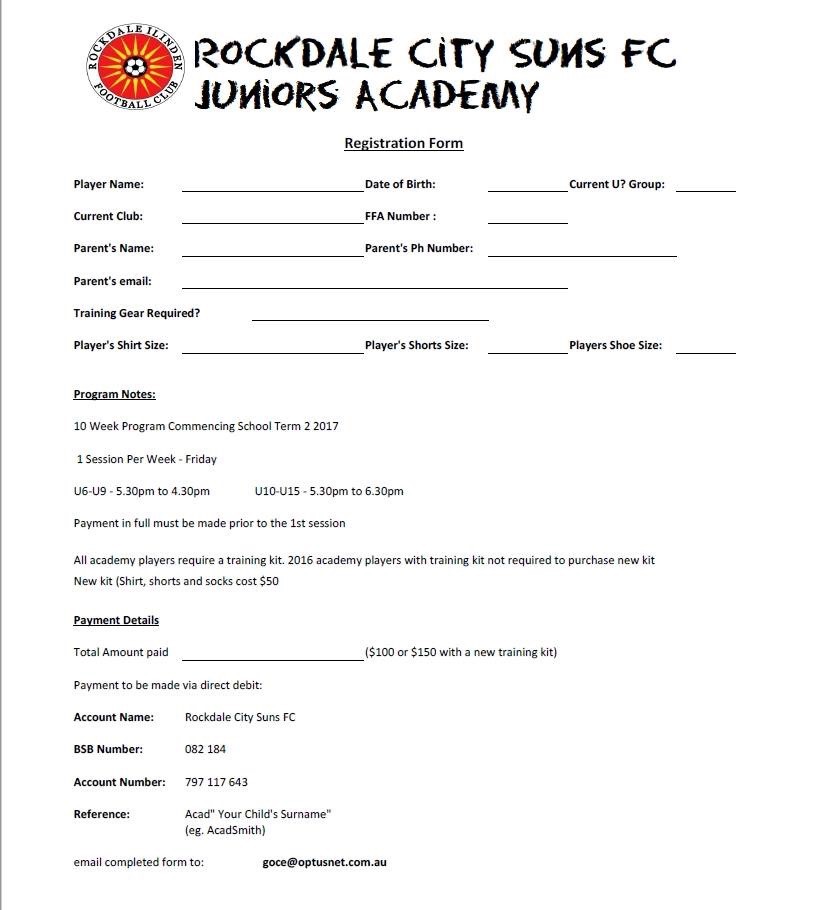 ---
---
 NEWS – 30 MARCH, 2017

Round 1 of the regular season starts this coming weekend & we are looking forward to a cracking season from our Junior Club teams.
We hope to continue on from last years efforts where our non-comp teams collectively won the fair play trophy at the St George Football Association's annual presentations.
We also want to wish our competition grades all the very best of luck & hopefully they all continue where they left off last year, with a bag full of premierships & minor premierships in 2016.
2017 SEASON – Round 1 Draw Published by St George Football Association
To access the draw click here or click on the banner below which will redirect you to the main navigation panel and select fixtures and results.
SGFA & RCSFC wish all clubs, players, coaches, referees, volunteers a very enjoyable season ahead.
Junior Club President
G. Trajkovski

---
NEWS – 24 FEBRUARY, 2017
ASSOCIATION PLAYERS WANTED!
We have been overwhelmed with the continued growth of our Association (Community) Junior and Senior teams. That said, we still have a few positions to fill in the following teams:
Under 10's (boys and girls)
Under 14's Boys
Under 12, 14 and 16 girls
All – Age Women
If you are interested in playing in a fun and friendly environment under the guidance of our Juniors Head Coach and former Sydney FC star, Kiki Naumoff, it's not too late.
For more info, call:
George on 0428883047 or
Vicki on 0425220439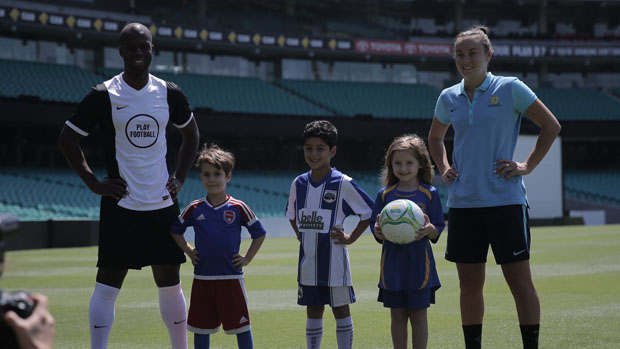 ---
NEWS – 20 FEBRUARY, 2017
RCSFC ASSOCIATION JUNIORS TD | KIKI NAUMOFF
We're proud to announce former Sydney FC rising star, Kiki Naumoff as our Association Juniors TD that will head up our St George Football Association coaching structure and juniors development.
Kiki, our current NPL New South Wales U15s coach, will provide a direct link between the structures and skills required to transition from our RCSFC Juniors through to elite Youth League football, and will assist and better develop our dedicated parent coaches.
For those wanting extra sessions, the RCSFC academy which commenced last season, will again be available to players wanting to participate, with small group sessions directed by Kiki for just $10 per session for RCSFC Juniors players.
To register for the Rockdale City Suns FC in 2017, follow the below link and register online, and come in this Saturday from 10am to 3pm or next saturday from 10am to 3pm to be sized up for your 2017 Puma playing kit.
PRICE DROP for U6s and U7s ($240) and no increase for all other age groups (U8 – U17 $270 & All Age $340). Rego includes Puma Playing Shirt, Shorts & Socks, A Puma Hoody, a Puma Bag, Rego, Insurance, Trophies and Photos, as well as a ball for all our U6-U17 players and squad ball allocation for the older age groups.
http://www.myfootballclub.com.au/