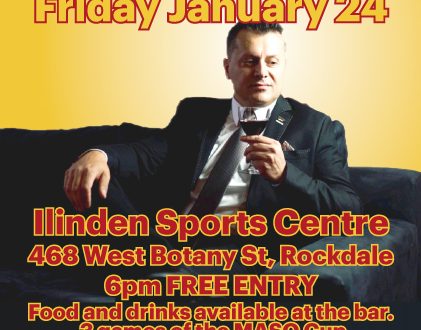 MASO CUP DETAILS- KICK OFF FRIDAY 24 JANUARY @ ILINDEN SPORTS CENTRE
FRIDAY 24 JANUARY
The 2020 Maso Cup kicks off Friday 24 January 2020 at the Ilinden Sports Centre with a massive night of entertainment:
FOOTBALL- 3 BIG GAMES
6:30PM- ROCKDALE V SCOTS LIONS FC- OVER 35'S
7:20PM- ROCKDALE V YAGOONA – MENS DIVISION 2
8:10PM- ROCKDALE V CRONGILA LIONS- FIRST GRADE
ALSO, WE HAVE A FREE CONCERT INSIDE THE CLUB HOUSE FEATURING GOCE BANANATA.
FINALLY, WE HAVE DJ AJEEY PLAYING THE LATEST TUNES OUTSIDE !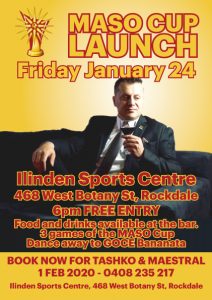 SATURDAY 25 JANUARY 
MASO CUP BALL- ILINDEN SPORTS CENTRE, LIMITED TICKETS AVAILABLE. 7:30PM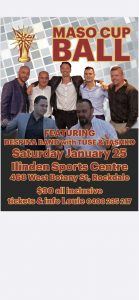 SUNDAY 26 JANUARY 2020
Full schedule of games across 7 divisions at the Ilinden Sports Centre and Bicentennial Park East.  Canteen and bar will be operating at both venues!
| | | | | |
| --- | --- | --- | --- | --- |
| TIME | HOME | AWAY | FIELD | DIVISION |
|          9.00 | Sydenham Park | Shell Cove | R1 | M1 |
|          9.50 | Rockdale | Wollongong | R2 | W |
|        10.40 | Bankstown | Broadmeadow | R1 | M1 |
|        11.30 | Rockdale | Sydenham Park | R1 | M1 |
|        12.20 | Queanbeyan | Geelong | R1 | M1 |
|        13.10 | Scots FC | Newcastle | R1 | M2 |
|        14.00 | Preston | Sydenham Park | R1 | M1 |
|        14.50 | Bankstown | Queanbeyan | R1 | M1 |
|        15.40 | Wollongong | Geelong | R1 | M1 |
|        16.30 | SF1 | SF1 | R1 | M2 |
|        17.20 | SF2 | SF2 | R1 | M2 |
|        18.10 | Broadmeadow | Wollongong | R1 | M1 |
|        19.00 | Rockdale | Preston | R1 | M1 |
|        19.50 | GF | GF | R1 | M2 |
|          9.50 | Bankstown | Cringila | R2 | 14 |
|        10.40 | Rockdale | Wollongong | R2 | 14 |
|        11.30 | Bankstown | Wollongong | R2 | W |
|        12.20 | Wollongong | Queanbeyan | R2 | 20 |
|        13.10 | Bankstown | Cringila | R2 | 20 |
|        14.00 | Yagoona | Shepparton | R2 | 35 |
|        14.50 | Newcastle | Bankstown | R2 | 35 |
|        15.40 | Bankstown | Queanbeyan | R2 | 20 |
|        16.30 | Wollongong | Cringila | R2 | 20 |
|        17.20 | Rockdale | Yagoona | R2 | 35 |
|        18.10 | Scots FC | Shepparton | R2 | 35 |
|          9.00 | Bankstown | Cringila | R3 | 16 |
|          9.50 | Rockdale | Wollongong | R3 | 16 |
|        10.40 | Rockdale | Cringila | R3 | 20 |
|        11.30 | SF1 | SF1 | R3 | 14 |
|        12.20 | SF2 | SF2 | R3 | 14 |
|        13.10 | SF1 | SF1 | R3 | 16 |
|        14.00 | SF2 | SF2 | R3 | 16 |
|        14.50 | GF | GF | R3 | 14 |
|        15.40 | GF | GF | R3 | 16 |
Guide:
Fields:
| | |
| --- | --- |
| R1 | Ilinden Sports Centre |
| R2 | Bicentennial East 1 |
| R3 | Bicentennial East 2 |
Teams and divisions:
Mens 1
Mens 2
35s
Womens
20s
16s
14s
1A
Rockdale
1B
Bankstown
1A
Rockdale
1A
Rockdale
1B
Yagoona
1A
Bankstown
1A
Bankstown
1A
Bankstown
1A
Bankstown
2A
Preston
2B
Broadmeadow
2A
Scots FC
2A
Scots FC
2B
Shepparton
2A
Rockdale
2A
Rockdale
2A
Rockdale
2A
Rockdale
3A
Cringila
3B
Wollongong
3A
Yagoona
3A
Newcastle
3B
Bankstown
3A
Wollongong
3A
Wollongong
3A
Wollongong
3A
Wollongong
4A
Sydenham Park
4B
Queanbeyan
4A
Newcastle
4A
Cringila
4A
Cringila
4A
Cringila
5A
Shell Cove
5B
Geelong
5A
Queanbeyan