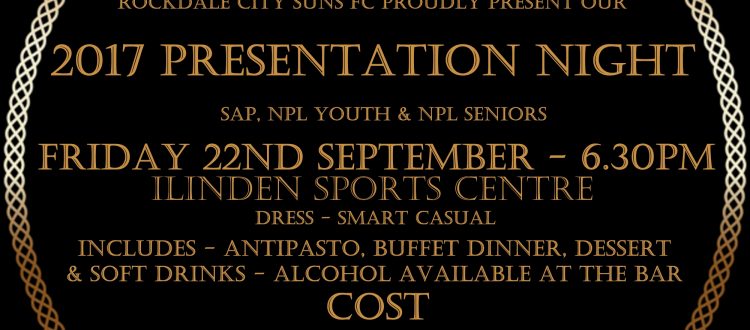 POST SEASON REVIEW AND PRESENTATION NIGHT DETAILS
Last Saturday night our season came to an end following a heart breaking penalty shoot out loss to Manly United.  The game was locked at 2-2 at the end of extra time and despite missing a host of chances, the boys unluckily bowed out after a loss on penalties.
Last night our first grade boys gathered for their end of season team dinner at the premises of 2017 club sponsor, Parea Restaurant. Whilst disappointed not to be playing in the grand final, the team are proud of their achievements and were in good spirits as they now commence their off season.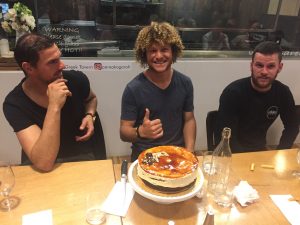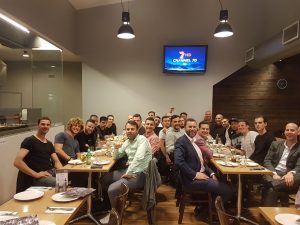 We are very proud of the team and we thank all of our players, coaches, and officials for their efforts.  We came within a  whisker of making the grand final. Likewise, our under 18's were desperately unlucky to lose their major semi final. We would like to congratulate Steve Zoric and Gary Deprato and their players for a wonderful season.
PRESENTATION NIGHT- 22 SEPTEMBER
We will join together for our end of season presentation night at the Ilinden Sports Centre on Friday 22 September 2017. it commences at 6:30pm. Tickets are on sale and if you wish to attend, please contact Louie on 0408235217.  $50 per person, includes food and soft drinks with live entertainment.
OTHER NEWS- TRIAL DETAILS FOR 2018
We will shortly be making announcements on player retention, coaches, and other exciting developments at the Ilinden Sports Centre for season 2018 for our senior, youth and SAP grades.
We will also shortly reveal details for trials for our 2018 squads.
SYNTHETIC UPDATE
The synthetic project is in full swing. In the short time since the end of the season, the contractors have undertaken a mountain of work and the project is well and truly on track for completion as scheduled.