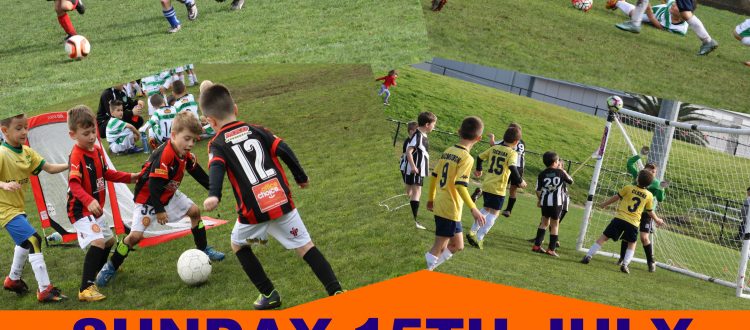 RCS JUNIORS 2018 GALA DAY- EXPERIENCE THE STADIUM DIFFERENCE!

Gala Day Tournament
 Under 6's, 7's and 8's – 15th  July 2018
  Gala Day tournament history
Rockdale City Suns extends an invitation to all teams to participate in our 2018 Under 6, Under 7's and Under 8's Gala Day.
The under 6, 7's and 8's Gala Day is to be held on Sunday 15th July 2018 at the Ilinden Sports Centre at Bicentennial Park, 468 West Botany Rd, Rockdale.
The Rockdale City Suns Gala Day enables Rockdale City Suns to showcase the talented young players from the ages of 6 to 8's.
All teams from within the state are invited to take part in what should be a fantastic day of football and which will showcase the level of quality these youngsters offer. The junior tournaments are a fantastic way of compounding the skills and techniques players are taught through training and then performing them in match situations.
The matches themselves are played on pitches which are smaller therefore forcing the players to play within tight spaces; increasing the level of control and urgency of passing within small areas under pressure.
| | | |
| --- | --- | --- |
| Under 6's | Players Born after 1 Jan 2011. | Team Fee $120 |
| Under 7's | Players Born after 1 Jan 2010. | Team Fee $120 |
| Under 8's | Players Born after 1 Jan 2009. | Team Fee $190 |
Teams will be accepted on a first-received basis, therefore entry forms and fees should be forwarded as soon as possible. Should your club have more than one team in this age group, you are welcome to enter them all. However, should sufficient entries be received from different clubs, only one team from each club will be accepted. Clubs will need to differentiate between their teams if submitting multiple entries.
Food refreshments and espresso coffee will be available at the grounds all day during the round-robin. For further information, please do not hesitate to contact George Trajkovski on 0428 883 047 or email goce@optusnet.com.au
NOTES:
Coaches/ Managers are requested to report to the official table by 8.00 AM to confirm their team's presence. The ID cards will be presented to a Rockdale City Suns Official for review.
PLEASE NOTE:
Unlimited interchange applies.
PLACES ARE LIMITED AND WILL FILL FAST WITH KIDS GETTING TO EXPERIENCE OUR FIRST GALA DAY IN OUR STADIUM ON THE SYNTHETIC PLAYING SURFACE!
REGISTRATION INSTRUCTIONS:
Entry Fee – Per Team:
U6's AND 7's- $120  U8's – $190
TO FINALISE YOUR TEAMS ENTRY YOU MUST:
ELECTRONICALLY TRANSFER YOUR TEAM ENTRY FEE TO THE FOLLOWING ACCOUNT:
Name: Rockdale City Suns BSB: 082-184
Acct: 79-711-7643
EMAIL YOUR COMPLETED APPLICATION FORM, TEAM PLAYER LIST, AND RECEIPT CONFIRMING PAYMENT OF THE ENTRY FEE TO goce@optusnet.com.au & Mickoski@ffa.com.au
NUMBERS ARE STRICTLY LIMITED AND SO GET IN EARLY. PLEASE NOTE THAT ALL COMPLETED APPLICATIONS MUST BE SUBMITTED BY THE FOLLOWING DATE: MONDAY 9TH JULY
REGISTRATION FORM AND RULES ANS REGULATIONS BELOW!