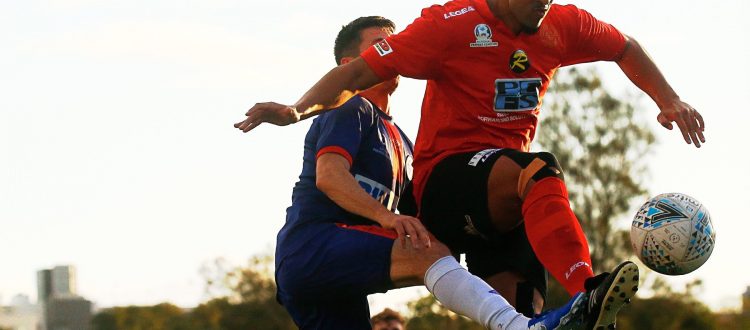 Rd: 14 SUNS EASILY DISPOSE HAPLESS HAKOAH
SUNS EASILY DISPOSE HAPLESS HAKOAH
Rockdale City Suns re-entered the National Premier Leagues NSW 'stop five and heaped more misery on rock-bottom Hakoah Sydney City East with a 4-0 win at Hensley Athletic Field on Sunday.
Nick Porreca's side had dropped out of the finals positions following their five-goal collapse against Marconi Stallions a week ago but returned at the expense of Manly United after strolling past the luckless Hakoah at Hensley Athletic Field.
Jordan Figon and Leigh Egger fired in scrappy first-half goals before Suns striker Figon sealed his double and put the visitors in the clear five minutes after the interval.
Alec Urosevski added a fourth late on, consigning Hakoah – who lost ex-A-League star Predrag Bojic and his replacement James Combes to injury inside the space of 34 first half minutes – to their eleventh defeat of the campaign.
It leaves Gavin Rae's side seven points adrift of eleventh-placed Mt. Druitt Town Rangers at the foot of the ladder.
Rockdale made the breakthrough when Figon controlled and buried a rebound after Hakoah custodian Ryan Norval parried Aleksandar Canak's shot into his path.
Norval produced a good near post save to deny Alec Urosevski but was beaten again on the cusp of the interval. Hakoah failed to clear Urosevski's delivery, and Egger reacted quickest to bundle the ball over the line from close range.
Figon punished the hosts for a second time by stroking a third past Norval on the counter early in the second, while Urosevski crowned a dominant evening late on with a tidy finish – the Rockdale top-scorer's sixth goal of the campaign.
"We're trying to get into their heads that we need to be stronger mentally for these games," said Suns boss Porreca.
"These are the sort of games you need to lift and make sure you get the points."
Porreca – who replaced former coach Paul Reid in the Rockdale hot-seat in April – also remarked that star duo Figon and Urosevski could turn the club into a real finals threat based on their excellent display in Round 14's curtain raiser.
"We've got a good team here. Both of those two guys can fire us there [to the finals].
"It's about managing them for the finals. Hopefully we can work our way there."
Match Stats
Hakoah Sydney City East 0
Rockdale City Suns 4 (Figon 26', 50', Egger 45', Urosevski 82')
Sunday 9th of June,
Hensley Athletic Field, Eastgardens
Hakoah Sydney City East: 15. Predrag Bojic (3. James Combes 29', 5. Steven Katsionis 34'), 13. Robert Ezekiel, 24. Amauri Gauthier, 8. Oliver Green, 17. Harry Jones, 14. Jordan Koton, 1. Ryan Norval, 2. Connor Shaddock, 12. Joshua Swadling, 4. Bradley Walker (9. Shohel Okuno 60'), 23. Adrian Vranic
Substitutes Not Used: 6. Dominic Cox, 25. Max Ephraim
Yellow Cards: Green 63'
Red Cards: N/A
Rockdale City Suns: 1. David Bradasevic, 8. Aleksandar Canak, 11. Leigh Egger, 12. Idriss El Hafiane (19. Patrick Savor 68'), 45. Jordan Figon, 20. Howard Fondyke, 18. Sasa Macura (17. Matthew Lecce 72'), 3. Michael Neill, 2. Daniel Petkovski (15. Nic Petrillo 75'), 14. Braydon Sorge, 7. Alec Urosevski
Substitutes Not Used: 9. Jonathan Grozdanovski, 22. Max Rowston