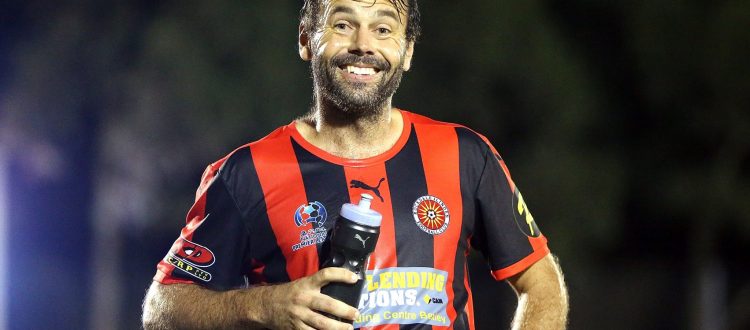 ROUND 3 CATCH UP MATCH | PARRAMATTA AT ILINDEN
Wednesday night at Ilinden Sports Centre, Rockdale City Suns FC take on Parramatta FC at 8pm in our Round 3 Catch Up match of the PS4 NPL New South Wales season.

A win in this match will see the Rockdale side move into outright 1st position on the table, a tremendous achievement so far in the season for the Players and Staff involved.
The Parramatta side will be no pushovers, having secured a 2 all draw against one of the current competition leaders, Blacktown City on the weekend.
Matches between these 2 teams are always tight and tense affairs and this one will be no different with 1st place on the line for the mighty Suns.
Gates open at 6.30pm.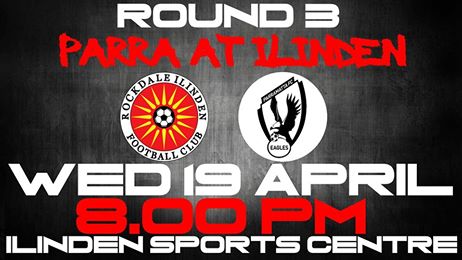 MATCH REPORT | RCSFC's 2 nil win over Sutherland Sharks FC – 15 April
Suns Defeat Sharks in Local Derby
Rockdale City Suns cruised to a 2-0 PlayStation®4 National Premier Leagues NSW Men's win over the winless Sutherland Sharks at Seymour Shaw to grab the bragging rights in the local derby on Saturday night.
First half strikes from Harris Gaitatzis and Jordan Figon helped the visitors to a comfortable win on the road.
Rockdale were in control of the match from the outset and might have won by a greater margin were it not for a stoic performance from Sutherland goalkeeper Nathan Denham, who kept his side within touching distance of an impressive Rockdale outfit.
Rockdale looked the more likely of the two sides to break the deadlock in the opening period.
Alec Urosevski could have opened the scoring after just five minutes when he steamed into the box from the left wing, but Denham came out and got down well to keep the score at 0-0.
Urosevski went close again just a few minutes later, collecting the rebound from his own free kick to send a shot looping just wide of the far post.
Rockdale continued to enjoy the lion's share of possession and deservedly took the lead midway through the half.
Urosevski smashed a shot against the underside of the crossbar, and with the ball bouncing up off the line and back into play, Gaitatzis was first to react to send a spectacular overhead kick beyond Denham and into the Sutherland goal.
The visitors were looking irresistible going forward, and doubled their advantage barely a minute after the restart.
Again, Figon slipped beyond his marker with the ball at his feet, this time drifting across the top of the box to cut a neat shot back across Denham, who was powerless to stop the ball from dribbling inside his far post.
The half drew to a close with Rockdale pressing for a third. a corner was rolled out for Suns skipper Daniel Petkovski to try his luck from the edge of the area, but Denham made a comfortable save to keep his side just two behind their opposition.
Sutherland began the second half determined to fight back against a cruising Rockdale side, and had several tame shots on goal in the first few minutes after the break, testing Ante Covic for the first time all night.
But Rockdale soon wrestled back control, and were putting the Sharks' defence under constant pressure as they continued to play long balls over the back line for Urosevski to chase.
They might have been up by three when Figon stole the ball away from Denham just after the hour mark, but the angle was too tight for him to register a goal on his return to Seymour Shaw, having left Sutherland to join Rockdale during the off-season.
Nathan Elasi might have pulled one back for the home side when he nearly broke through the Rockdale defence, but was held up and slid his shot well wide of the near post with Covic covering easily. Covic found himself properly tested shortly after when Nick Littler lined up long drive from well outside the area; the shot dipping just inside the far post for the goalkeeper to push away for a corner.
Sharks controlled possession in the closing stages, but could do little else to snatch a goal back, with Rockdale defending their clean sheet well. Sutherland's Carlos Villazon lamented the lapses in concentration which saw his team fall behind in the first half.
"I think we played two different games.
"In the first half we made too many mistakes in possession, and it cost us those two quick goals," he said.
"In the second half, we tried to move things around a bit more to open up a few more opportunities, and we had a few chances in the last ten, fifteen minutes that might've made things different if we'd managed to put one or two away. But mistakes cost games – we have to learn how to be more composed under pressure."
Rockdale's player-coach Paul Reid was delighted with his team's effort, particularly in keeping their first clean sheet of 2017.
"We spoke at halftime – we haven't kept a clean sheet all season," he said.
"We've been scoring goals, but we've conceded a few more than we'd like to, too. We might've scored a few more but we had a lot more control in the second half – we didn't feel under a huge amount of pressure.
"To come away with a 2-0 result is great – Sutherland are a good team, I'm not sure how they haven't won a game yet. Things will turn around for them very soon – I'm just glad that it wasn't tonight."
Sutherland Sharks will look to move on from this week's result by turning their attentions to their round seven fixture away to Bonnyrigg White Eagles at Bonnyrigg Sports Club next Saturday, while Rockdale travel to Cromer Park to face Manly United on Sunday.
Match Stats
Sutherland Sharks FC 0
Rockdale City Suns FC 2 (Gaitatzis 23′, Figon 24′)
Saturday 15th April 2017, Seymour Shaw
Referee: B. Abraham
Assistant referees: A. Giev and J. Park
Fourth official: A. Mansour
Sutherland Sharks FC: 1. Nathan DENHAM, 3. Takuya MURAYAMA, 5. Nicholas LITTLER, 6. Matthew GORDON, 4. Stephen KAYES (8. Christopher MCSTAY 78′), 9. Tomohiro KAJIYAMA, 10. Joshua DA SILVA (11. Nathan ELASI 58′), 12. Blair BROWN, 13. Jeremy COX, 14. Patrick O'SHEA, 15. Kevin LOPES (13. Jeremy COX 58′)
Substitutes not used: 25. Wade OOSTENDORP, 21. Nik LOE
Yellow Cards: Matthew GORDON 85′
Red Cards: N/A
ROCKDALE CITY SUNS: 22. Ante COVIC, 2. Daniel PETKOVSKI, 4. Trent MCCLENAHAN, 5. Paul REID, 7. Alec UROSEVSKI, 8. Alec CANAK, 10. Harris GAITATZIS (43. Blake RICUATO 89′), 17. Toufic ALAMADDENE (11. Jonathan GROZDANOVSKI 73′), 19. Patrick SAVOR (14. Brayden SORGE 69′), 23. Jordan FIGON, 3. Steven HESKETH
Substitutes not used: 1. David BRADASEVIC, 16. Isaac SAVOR
Yellow Cards: Jordan FIGON 71′
Red Cards: N/A
Player Ratings
3 – Alec Urosevski (RCSFC)
2 – Harris Gaitatzis (RCSFC)
1 – Nathan Denham (SSFC)
-By Football NSW reporter Max Grieve