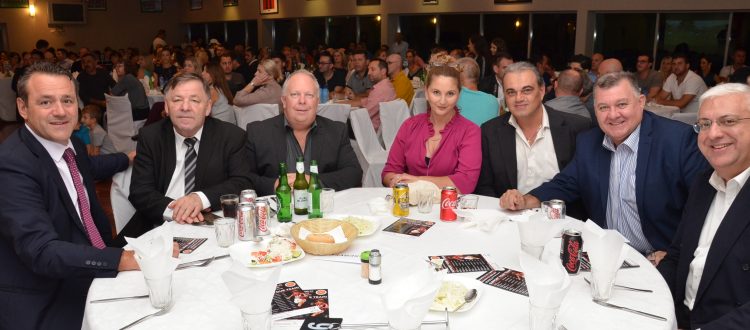 It is official for the Rockdale City Suns FC, the football season has officially been opened. Starting the year off with a pre-season Maso Cup Tournament win for all 3 men's grades, the Under 19's, the over 35's and 1st Grade who were all crowned Champions… RCSFC sure mean business for the regular season ahead.
Suns President, Dennis Loether has stated that he is "genuinely optimistic" for the new season. Rockdale City Suns have retained the core of their 2016 1st Grade team, who happened to finish the season in fourth place on the ladder, and have added a few new names to their 2017 squad. Some of the new additions are, 2016's Player of the Year and Under 20 Golden Boot winner, Jonathan Grozdinovski, former Sutherland Sharks Striker Jordan Figon, former Sydney Olympic marksman, Harris Gaitatzis and STAR signing for 2017, former Western Sydney Wanderers, Perth Glory and Socceroos Keeper, Ante Covic.
Rockdale City Suns are also very excited about the crop of Under 20's that they have assembled under the leadership of new coach, Stamati Glaros. Likewise, the RCSFC Under 18's look like being a formidable team under the guidance of new Head Coach, Steve Zoric.
This season's NPL Youth and SAP's coaching line up is arguably the strongest the Rockdale club has had in some time. Under the guidance of returning Technical Director, Michael Grbevski, the new coaching line-up includes former Sydney FC Star Christopher Kiki Naumoff. Going by the quality of players who trialed for the Youth and SAP teams, the Suns have high expectations for the season ahead.
In front of a full house at the Rockdale-Ilinden Sports Centre last Friday night, all players from SAP to 1st Grade received their 2017 playing kits and the Season was officially opened. Special guests on the night included The Hon Craig Kelly MP Federal Member for Hughes,  Steve Kamper MP State Member for Rockdale and the former Mayor of Rockdale City Council Bill Saravinovski joining in on the celebrations.
Rockdale City Suns were also delighted to have had the majority of their Sponsors present on the night and would like to thank, Paul Petrovski from PCFS, Sash Petrovski from the Home Lending Centre at Bexley, Andrew Stefanoski from Laing and Simmons St.George, George Nik from George Nik & Associates, Bobby Anevski from Cityview Group, George Mavros from Kingsford Smith Buses, Peter Zaj from NTS Communications, and last but not least, special guest appearance by Johnny Boxer otherwise known as Bobo from the cult series 'Fat Pizza'.
For more photos, please visit our Facebook page, PHOTO ALBUM