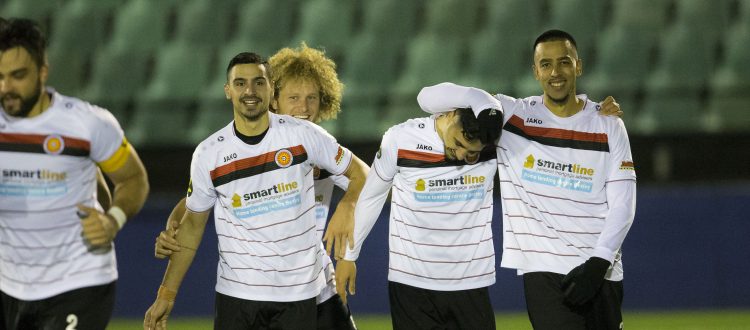 SUNS DEFEAT SYDNEY UNITED AWAY
REPORT COURTESY OF FNSW
SUNS THWART UNITED 58 YET AGAIN
Rockdale City Suns' incredible resurgence added another chapter on Saturday with an incredible 2-0 win against Sydney United 58 at Sydney United Sports Centre.
It was an impressive performance from the Suns who took control of the match from the opening minute and never looked back to notch their third straight win.
It was also the second time in as many weeks the Suns recorded victory over United 58 as Paul Reid's men knocked out the Reds in round 6 of the FFA Cup Preliminary Rounds.
Brayden Sorge helped Rockdale off to the perfect start when he netted in the opening seconds of the match before an Alec Urosevski goal in the first moments of the second stanza wrapped up the result.
The result moves the Suns well into reckoning for a top five position and finals football leaving their early season struggles as nothing more than an afterthought.
The match got off on the perfect foot for traveling Rockdale fans at Sydney United Sports Centre.
A shot from Brayden Sorge on the right went straight through goalkeeper Thomas Manos as spectators had hardly settled into their seats and Rockdale City Suns were ahead.
Manos would have liked to have a second attempt at the one to get his body behind the ball.
Sydney United 58 FC though almost hit back two minutes later when Yianni Fragogiannis flicked-on a corner at the near post, but Rockdale's custodian Ante Covic was well alert to the danger and held the sphere very well.
In the 20th minute a free kick, given away by Patrick Savor for a foul just outside the box, was well hit by Panny Nikas but the ball just shaved the top corner of the goal. Sydney United were close but not close enough.
In the 31st minute it was Rockdale City's turn to almost find the net. A corner was met by Blake Ricciuto who hit it beautifully first time, but Jordan Roberts cleared off his own line to save the home side from going down by two goals.
In the 35th minute Nikas did just about everything except score. A great weaving run from the midfield by Sydney United's captain ended with a shot from just inside the box that was well blocked by the Rockdale defence but, as luck would have it, the ball rebounded straight back to him and his second attempt was only just wide of the post.
In the 44th minute it was Nikas again at the centre of attention when he went down in the box under the challenge of Ricciuto, but referee Kris Griffith Jones decided that it was not a penalty despite heavy protestations of the Sydney United players.
The second half opened in much the same way as the first stanza of play. It was the opening minute and Rockdale City Suns once again struck early.
A shot by Alec Ursosevski completely bamboozled Manos in goal before it crashed into the back of the net for a 2-0 Rockdale lead.
In the 57th minute, Urosevski should have made it three when he was fed a lovely through ball by Alex Canak, but in the end his diagonal shot ran across the face of goal and finished only fractionally wide of the intended target.
However, a minute later Sydney United replied with a curling shot from Chris Payne that only just missed the corner of the goal and with these two excellent chances at either end of the park, the game was well and truly alive.
In the 67th minute a nicely worked ball from Christian Gonzalez on the left virtually gifted a chance to an unmarked Matthew Sim in the centre of the area, but he sent his shot over the crossbar when really he should have done a lot better.
After the game Rockdale City's coach Paul Reid was definitely happy with his side's determination and the three points gained which brings them equal on the ladder to Sydney United.
"We did have to weather a bit of a storm in the first half after we got the early goal," he said.
"We did change it slightly in the second half and we were then much more comfortable.
"Our defence was outstanding. We were desperate and we blocked everything and it was a great team effort in defence for us.
"The three points from tonight are massive because we knew that they were three points ahead of us. We have been in some decent form recently and we wanted to continue that momentum, but we still have a long way to go to get to the levels where we want to be."
Over in the opposition dressing sheds Sydney United's coach Miro Vlastelica was disappointed but taking the defeat in his stride.
"It was a poor start and as soon as you cop an early goal, you are on the back foot," he said.
"However, we got ourselves going after that and we were then on the front foot but you have to give credit to Reidy and Rockdale as he had them well organised.
"We kept trying and going forward but they were hard to break down. At the end of the day we couldn't break them down and score the goals that were needed.
"It's difficult because you start forcing passes and making little mistakes and that's what happened after the second goal. Every week though we'll take it as it comes and now we'll move on and get ready for next week against Sydney FC."
Match Stats
Sydney United 58: 0
Rockdale City Suns: 2 (Sorge 1', Urosevski 46') 
Saturday, 9th June 2018
Sydney United Sports Centre, Edensor Park
Referee: Kris Griffiths Jones
Assistant Referees: Andrey Giev, Raymond Osborne
Fourth Official: Toby Plasto
Sydney United 58 FC: 21. Thomas Manos, 2. Christian Gonzalez, 3. Jordan Roberts (20. Peter Markovic 61'), 4. Adrian Vlastelica, 6. Chris Payne (13. Sam Perre 85'), 8. Matthew Sim, 9. Patrick Antelmi, 11. Yianni Perkatis, 18. Glen Trifiro (15. Tariq Maia 65'), 22. Yianni Fragogiannis, 23. Panny Nikas.
Substitutes not used: 1. John Hall, 7. Naim Rahimi.
Yellow Cards: Perkatis 44'
Red Cards: Nil
Rockdale City Suns: 1. Ante Covic, 2. Daniel Petkovksi, 6. Blake Ricciuto, 7. Alec Urosevski, 8. Alex Canak, 9. Bai Antoniou (10. Harris Gaitazis 81'), 14. Brayden Sorge, 15. Nicholas Petrillo, 19. Patrick Savor (4. Trent McClenhan 89'), 21. Michael Neill, 23. Jordan Figon (11. Jonathan Grozdanovski 78').
Substitutes not used: 12. Idriss El Hafiane, 25. Jake Soutter
Yellow Cards: Savor 43', Neill 66', Grozdanovski 94'
Red Card: Nil
-By National Premier Leagues NSW reporter Joe Russo