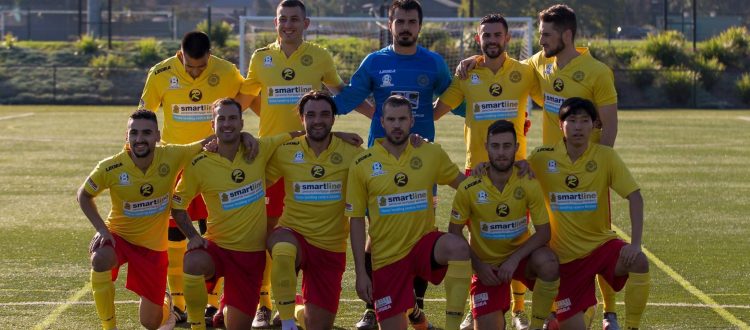 SUNS MAKE IT 3 WINS IN A ROW!
Solid win yesterday over Blacktown 1-0 away from home.
Match report below courtesy of FNSW:
SUNS CONTINUE TO SOAR UP THE LADDER
A stunning solo strike from Alec Urosevski has lifted Rockdale City Suns to their third win on the trot as they defeated Blacktown City 1-0 at Lily Homes Stadium on Sunday.
Urosevski came off the bench to break the deadlock in the 62nd minute and maintain interim coach Nick Porecca's perfect record since taking over the Rockdale hot seat.
It was a frustrating clash for Blacktown as they were unable to make the most of their multitude of chances with wasteful finishing and lapses in concentration proving costly.
The result catapults Rockdale into the top five while Blacktown drop further away from the finals race.
Blacktown raced out of the blocks from the opening whistle with Rockdale's defence tested by the City's aggressive approach.
The home side went inches away from opening the scoring only a few minutes into the match when Leroy Jennings crashed a powerful volley into the crossbar.
Blacktown was on the ascendency but were unable to take complete control of the contest despite all their possession.
A defensive lapse gifted Rockdale a perfect chance to take the lead when Jordan Figon won his side a penalty after being taken down in the area by City keeper Tristan Prendergast.
However, Prendergast made up for his error making an incredible diving save to his right to deny Patrick Savour's spot kick.
The matched opened up after the spot kick with play racing from end to end but neither side had the final cutting pass to truly break open the opposition.
Suns keeper David Bradasevic was up to the challenge as Jennings tested him with a stinging shot from the left as Blacktown fought gallantly to break the deadlock.
Will Mutch had another great chance for Blacktown soon after but he too was unable to find the back of the net.
Both side's went into the break deadlocked at 0-0 with poor finishing a big part to play.
The second stanza opened with more of the same need to end play which was a feature before the interval but again finishing and sloppy ball play proved costly for both Rockdale and Blacktown.
The introduction of Urosevski proved game changing for the visitors with the star winger opening the scoring in the 62nd minute only moments after coming off the bench.
Urosevski picked the ball up out wide 35 yards from goal before slaloming through the Blacktown defence and firing across the keeper and into the net to give Rockdale a 1-0 lead.
Two back to back saves from Prendergast kept Blacktown in the clash as he first got down low to deny Matthew Lecce before saving Figon's follow up effort.
Blacktown were desperate for an equaliser and threw everything forward in the dying stages.
Waves after wave of attack had Rockdale on the backfoot but for all City's balls into the box they were unable to create any real opportunities on goal.
Rockdale remained calm among the relentless attacks clinging on for a hard earned result.
Suns assistant coach Matthew Ribarovski said a change in attitude has proven to be a massive game changer for his side on and off the pitch.
"A few weeks ago we sat down with the boys and had a chat to them about where the team was and what we need for the rest of the season and it has seen the players take a bit more responsibility which i think has been very evident in our matches," he said.
"Today we were under the pump in the first half and did well to not concede. Then after the break we really stood up and took control of the match.
"Alec was great once again when he came on and while we it would be great to have him play 90 minutes every week, our decision to ease him back from injury will make sure he can finish the season in the best possible shape."
A frustrated Mark Crittenden rued what he called "a game of two halves"
"We had a lot of possession and had good ball movement but we struggled in the final third and that really cost us the match," he said.
"We probably deserved to go into the break in the lead but we were unable to make the most of our chances and then we concede a goal and struggled to get back from there.
"I'm not disappointed with how we are playing or the effort but at the moment we aren't finding the back of the net and it's really hurting us."
Match Stats
Blacktown City FC: 0
Rockdale City Suns FC: 1 (Urosevski 63')
Sunday, April 28 2019
Lily Homes Stadium, Seven Hills
Referee: Ben Abraham
Assistant Referees: Joon Park & Hugh Fenton-White
Fourth Official: Joel Crawford
Blacktown City: 1. Tristan Prendergast, 3. Daniel Collins , 4. Yianni Spyriakis 7. (Devante Clut 45'), 5. Grant Lynch, 6. Matthew Lewis, 8. Daniel Araujo, 9. Joey Gibbs, 11. Emmanuel Gonzalez (15. Mason Versi 72), 19. Adam Berry, 21. William Mutch (17. Dakota Askew 60'), 22. Leroy Jennings
Substitutes not used: 20. Dylan Niski, 23. Daniel Bragg
Yellow Cards: Mutch
Red Cards:
Rockdale City Suns: 1. David Bradasevic, 2. Daniel Petkovski, 3. Michael Neill, 6. Khang Hoon Cho ( 7. Alec Urosevski 57'), 8. Aleks Canak (20. Howard Fondyke 87'), 11. Leigh Egger, 12. Idris El Hafiane, 17. Matthew Lecce (9. Jonathan Grozdanovski 73'), 18. Sasa Macura, 19. Patrick Savour, 45. Jordan FIgon.
Substitutes not used: 10. Joshua Da Silva, 22. Max Rowston,