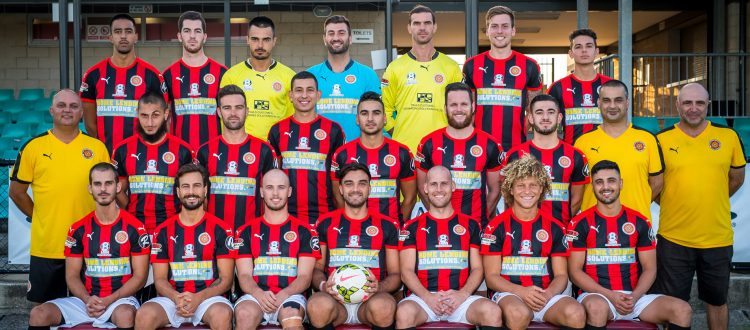 Suns survive late United 58 rally
Rockdale City Suns has survived a late fightback to secure a 2-1 win against Sydney United 58 in their PlayStation®4 National Premier Leagues NSW Men's clash at Ilinden Sports Centre played on Wednesday after their initial round 2 match was cancelled last Sunday.
By Football NSW Staff Writer.
The Suns held on to an early two goal lead after skipper Daniel Petkovski and substitute Harris Gaitatzis struck in the opening 25 minutes to ensure their side notched its second win in as many games.
The home side were forced to fight for all three points as an Adrian Vranic goal for United 58 in the 69th minute kick started a late fightback.
However, the win came at a cost for Rockdale with key contributors Jordan Figon and Blake Riccuito forced off with injury.
It was a slow start to proceedings with a waterlogged pitch making the slick passing style of both sides difficult to execute.
Chances were at a premium and it wasn't until the 5th minute for the first shot on goal. Figon of Rockdale fired at United 58 keeper Thomas Manos but the gloveman was more than up to the task.
The stalemate would not last much longer with the home side breaking the deadlock in the 16th minute.
Petkovski was in the right place at the right time to bundle the ball into the back of the net after Manos fumbled a powerful shot from Figon.
Rockdale were forced to make an early substitution when hardworking midfielder Ricciuto went down injured after an earlier collision which saw him with a nasty open wound cut to his leg.
It proved to be an influential change with Gaitatzis finding the back of the net with one of his first touches of the match.
The former Sydney Olympic captain finished into the bottom right corner after a slaloming run and slick passing combination with Alec Urosevski.
Conceding a second goal proved to be a wake-up call for United 58 who picked up the pace in the closing stages of the first half. However, the visitors were unable to cut into the lead before referee Kris-Griffiths Jones whistled for the break.
The increased intensity from the Reds remained at the start of the second stanza as the away side moved the ball around in numbers creating a number of half chances.
United 58 were determined to fight their way back into the match but their frantic and erratic play meant they were unable to create any legitimate goalscoring chances.
The home side were happy to sit back and play on the counter attack in the second half and it was a strategy which went very close to paying off in the 55th minute.
Urosevski broke away from just inside the opposition half but could only shoot straight at Manos when one-on-one with the keeper.
Injury struck again for the home side in the 60th minute when Figon was forced off after succumbing to an earlier ankle injury.
Against the run of play, the 2016 Premiers finally found the back of the net.
Vranic out jumped the Suns defence to nod home a looping cross from the left wing.
United 58's goal increased the intensity of the match with both teams determined to claim maximum points.
The Reds pushed forward in the dying stages but couldn't break down a resolute Rockdale defence.
A long-range driving shot from Panny Nikas was the final roll of the dice for the visitors, and as was the story for most of the match, it was easily defused.
The final whistle couldn't come quick enough for Rockdale and a relieved coach Paul Reid was delighted to pick up all three points.
"It was a hard-fought match in testing conditions. I'm really proud of the way the boys dug in to get the win.
"We knew coming into the match we would need to change things up a bit to suit the conditions and I am very happy with the way my players responded.
"The closing stages of the match forced us to really tighten up at the back and hold on. Fortunately, Sydney United 58 failed to create many dangerous opportunities to really test Ante (Covic) in goal."
Sydney United 58 coach Davor Basjic rued what could've been.
"I felt we were the better team on the park today and to not come away with a win is very disappointing.
"We conceded both goals early in the match at times when I believe we were in control of the game.
"The conditions made playing to our style difficult but in the end we just didn't do enough on the night to win.

With only a couple of days rest, Sydney United 58 travel to Hensley Athletic Field to tackle Hakoah Sydney City East with a 3pm kick off in search of their first victory for 2017 while the Suns are at home once more on Sunday, facing Parramatta FC with kick off scheduled for 5pm.
Match Stats
Rockdale City Suns 2 (Petkovski 16', Gaitatzis 23')
Sydney United 58 FC 1 (Vranic 69')
Ilinden Sports Centre, Rockdale.
Wednesday, March 22 2017
Referee: Kris Griffith-Jones
Rockdale City Suns: 22. Ante Covic, 2. Daniel Petkovski, 4. Trent Mcclenehan, 5. Paul Reid (3. Steven Hesketh 73), 6.  Blake Riccuto (10. Harris Gaitatzis 20'), 7. Alec Urosevski, 8. Aleks Canak, 12. Idriss El Hafiane, 15. Nicholas Petrillo, 19. Patrick Savor, 23. Jordan Figon (17 Toufic Alameddine 60')
Substitutes not used: 1. David Bradasevic, 11. Jonathan Grozdanovski
Yellow Cards: Savor 39' Canak 80', Petkovski 80'
Red Cards
Sydney United 58: 21. Thomas Manos, 5. Antony Tomelic, 7. Shin Yutaro, 8. Matthew Sim (9. Adrian Vranic 68'), 16. Stepjan Paric, 17. Matthew Bilic, 18. Glen Trifiro, 20. Peter Markovic, 22. Yianni Fragogiannis, 23. Panagiotis Nikas, 32. Nicholas Olsen (11. Ante Tomic 73')
Substitutes Not Used: 30. Luke Babic, 2. Kris Vlismas
Yellow Cards: Markovic 37', Bilic 41', Vranic 80' Jack Stewart 90'
Red Cards:
Player Ratings
3 – Alec Urosevski (RCS)
2 – Glen Trifiro (SU58)

1-  Daniel Petkovski (RCS)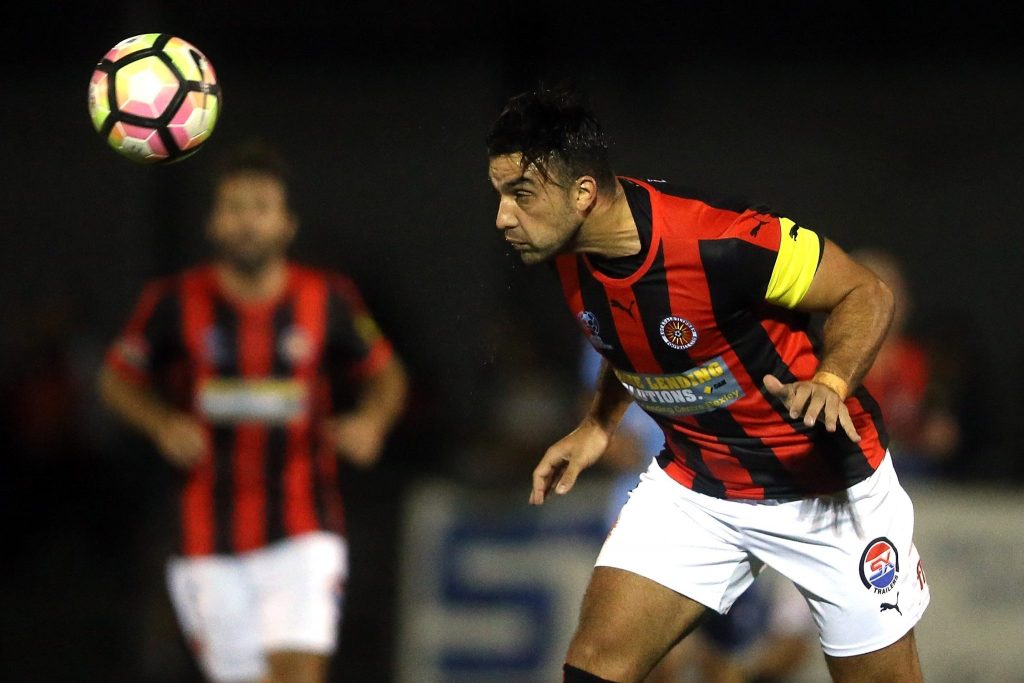 Round 2 catch-up game tonight between Rockdale City Suns Football Club – Ilindenand Sydney United 58 FC. Kickoff 7:30pm, weather very much dependent – Adam Santarossa to call the match!
WATCH THE FULL MATCH BY CLICKING ON BANNER BELOW;