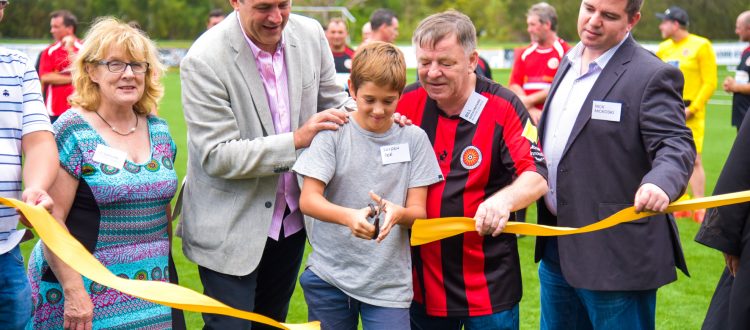 Before a crowd of 3000 spectators, a state of the art synthetic playing surface at the Ilinden Sports Centre was officially opened on Sunday 11 February 2018.
The day featured a number of games involving many of the clubs junior teams, SAP squads, NPL Youth and finally our senior grades who were taking on local rivals, St George FC.
In between these matches was a legends game involving a number of former players including the likes of Zlatko Nastevski, Paul Dee, Stewart Porter, Bill Pilovski, Michael Grbevski, Joe Moric, Louie Dounis, Zoran Naumovski, Eric Williams, Nicky Bosevski, Greg Leronde, Richard Plesa and many many more.
At the conclusion of the legends game, it was time for the official opening of the ground.
The honour of opening the ground was bestowed upon the Mayor of the City of Bayside Council Bill Saravinovski together with the State Member for Rockdale, Mr Steve Kamper. They were joined in the official party by Bayside Councillor Liz Barlow, former Rockdale City Councillor Nick Mickoski, and the General Manager of Bayside Council Meredith Wallace.
Following on from these festivities it was game time as the senior teams took to the new pitch.
Despite trailing to an early goal, the Rockdale City Suns stormed home to win 4-1 and in doing so, took out the SPWS Cup which was being played out between the two sides.
The trophy was gratefully accepted by club captain Daniel Petkovski.
The Suns thanked Bayside Council for its shared vision for the stadium and their support for the project. The club also acknowledged some of the many special guests in attendance which included past Presidents, Football NSW CEO Stuart Hodge, Head of NPL Operations at the FFA Mal Impiombato, SGFA Board Members, as well as a number of our 2018 corporate partners – Not to mention former 1974 Socceroos coach and football icon Rale Rasic.
The club finally thanked its local neighbours St George FC for joining them on what was a memorable day for the Rockdale City Suns Football Club.
-Rockdale City Suns Press Release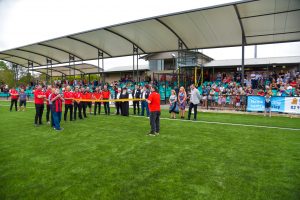 Official party for the opening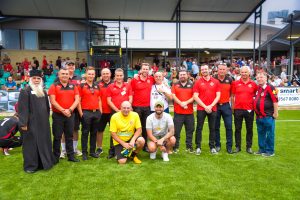 Committee members

Sponsors: George Nik & Associates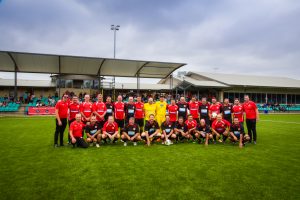 Legends teams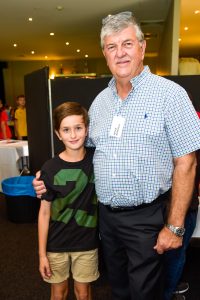 Peter Kotevich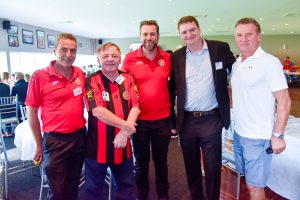 Bayside Mayor Bill Saravinovski, Football NSW CEO Stuart Hodge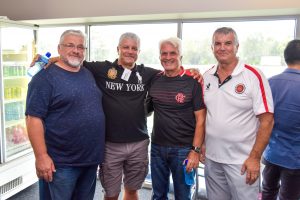 Former presidents with Rale Rasic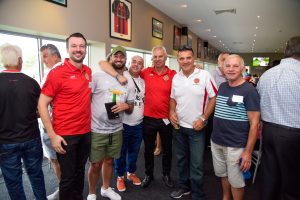 Sponsors: SPWS Smartline Bexley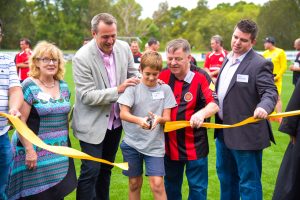 Official opening by Member for Rockdale Steve Kamper, Bayside Mayor Bill Saravinovski, Councillor Liz Barlow, former Councillor Nick Mickoski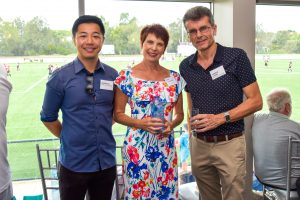 Sponsor: Mortgage House Bankstown