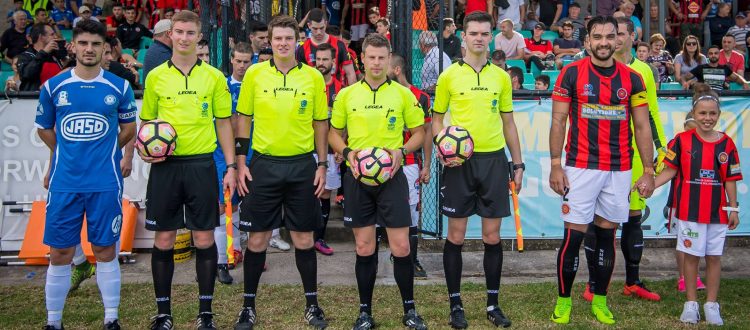 Suns and Olympic Share the Spoils
An 82nd-minute goal from Yu Kuboki has helped Sydney Olympic FC clinch a thrilling 2-2 draw with Rockdale City Suns at Ilinden Sports Centre on Sunday.
The result ensured both teams maintain their unbeaten start to the PlayStation®4 National Premier Leagues NSW Men's competition after five rounds.
Young midfielder Max Burgess' first-minute goal was the perfect start for Olympic but goals to Jordan Figon and Alec Urosevski had Rockdale with the upper hand going into the final stages of the match.
However, Kuboki was able to make up for an earlier missed penalty to ensure the Jamie Monroy coached side snagged a vital competition point during what was an entertaining clash.
The opening goal arrived in the first minute of play when the ball was pushed across to Max Burgess who, from outside the box, let fly with a shot that stunned all and sundry and ended up in the corner of the net.
In the 8th minute, a perfect cross from the right by Paul Katsetis was met by the header of Radovan Pavicevic and he glanced it only a centimetre wide of the intended target.
It was Rockdale City's turn to hit the back of the net in the 10th minute.
Some scrappy and determined work in the midfield led the ball to Jordan Figon who slotted it in the net past Paul Henderson. The teams were now even and the scene for a great contest was set.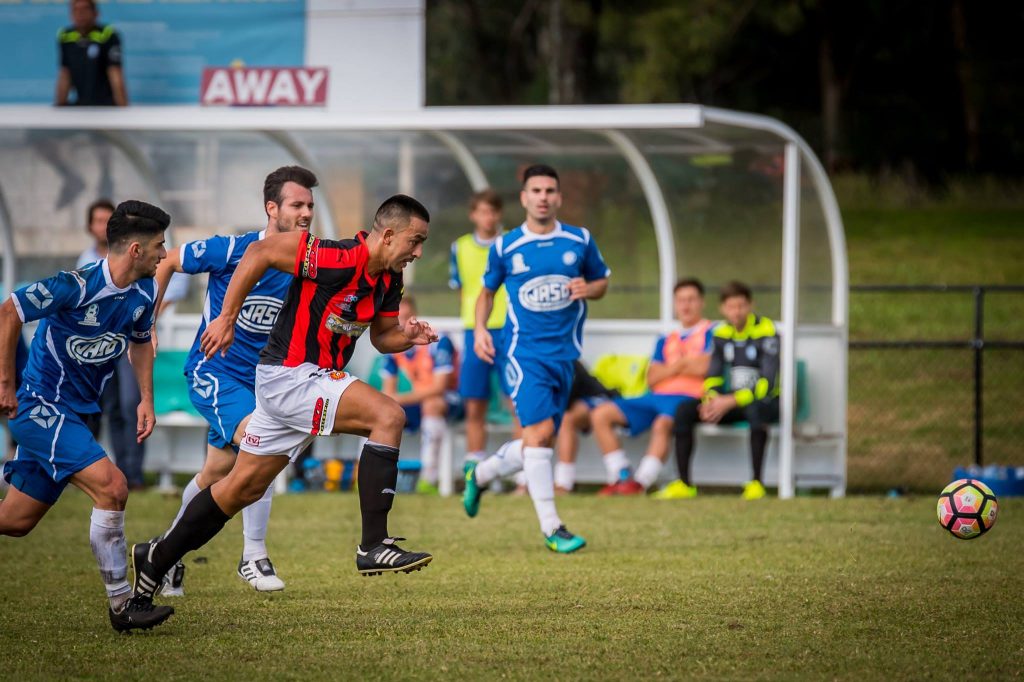 In the 21st minute a nice ball from Trent McClenahan reached Urosevski who, with a powerful diagonal shot from the left, forced 'keeper Henderson to turn the ball wide for a corner.
What one side could do, the other thought that it could do better because in the 25th minute a beautiful attempt from the right by Max Burgess ended up against the post with goalkeeper Covic absolutely stranded. It would have been a wonderful goal indeed for the visiting team.
In the 35th minute former Blues attacker Harris Gaitatzis stole the ball against his former side before playing it through to Alec Ursosevski who just needed to slot it home, however veteran goalkeeper Henderson charging off his line made an outstanding save.
In the 38th minute some determined work by Figon in midfield allowed him to delightfully thread the ball through to Toufic Alameddine.
Alameddine, who hit it first time with a powerful right, brought out the best in Henderson who did very well to get down low and block.
The former Northern Spirit custodian was certainly winding back the years.
In the first minute of the second stanza of play, Figon tried to volley from just outside the box only to see his shot end up just wide. It was an exciting start after a well-deserved halftime break for both teams.
Rockdale City Suns did take the lead though in the 50th minute when Alec Urosevki received the ball on the left and, with a nice diagonal shot, made sure that it hit the back of the net much to the home side fans' delight.
Sydney Olympic missed a penalty in the 70th minute after Alex Canak brought Niko Tsattalios down in the box. From the spot Yu Kuboki couldn't beat Covic who used all his experience and got down well to save.
The visitors did hit the back of the net in the 82nd minute and Kuboki made up for his missed penalty. A well-placed pass from Jason Madonis put Kuboki in a dangerous position, the frontman neatly put his diagonal shot into the bottom corner of the net for Olympic's equaliser.
The last real action of the game was in the 89th minute when Mitchell Stamatellis headed a free kick onto the crossbar.
Sydney Olympic Coach Jaime Monroy said the match was everything he had planned for and more.
"This is a derby and so we were expecting this type of game," he said.
"It was tough for both sides. We scored first but I think we scored too soon and, when you score too soon, it's always difficult to maintain that advantage.
"I think both teams played well. They played their direct game and we played our game. We missed a penalty in the end and therefore the result could have been different.
"I am still happy to be unbeaten and to claim a point here today, but we still need to work together because it's going to be a difficult year."
Paul Reid, Rockdale's player-coach, was also concerned about not taking full advantage of his side's chances but was still satisfied with a point.
"It was a real good, local derby and I must admit that it would have been a good game to watch," he said.
"There were plenty of chances from both teams and some really good football was played out there. If we had have taken our chances, we could have won fairly comfortably in the end.
"We set about with a certain game plan at the start but they scored after a minute – and it was a great goal – so it changed us a bit. We had some great one-on-one chances; our effort was brilliant today but we do have to be a bit more composed in front of goal."
Match Stats
Rockdale City Suns     2
(Figon 10', Urosevski 50')
Sydney Olympic FC     2
(M. Burgess 1', Y. Kuboki 82')
Sunday 9th April 2017
Ilinden Sports Centre, Rockdale
Referee: Roberto Mattei
Assistant Referees: Kearney Robinson, Patrick Teleki
Fourth Official: Andrew Lyndon
ROCKDALE CITY SUNS: 22. Ante Covic, 2. Daniel Petkovski, 4. Trent McClenahan, 5. Paul Reid, 7. Alec Urosevski (14. Brayden Sorge 85'), 8. Alec Canak, 10. Harris Gaitatzis, 15. Nicholas Petrillo, 17. Toufic Alameddine (11. Jonathan Grozdanovski 75'), 19. Patrick Savor, 23. Jordan Figon (3. Steven Hesketh 91').
Substitutes not used: 1. David Bradasevic, 16. Isaac Savor
Yellow Cards: Gaitatzis 40', Alameddine 69, Petkovski 84', Canak 90'
Red Cards: Galimi 69'
SYDNEY OLYMPIC: 1. Paul Henderson, 5. Yianni Spyrakis, 6. Stamatellis Mitchell, 7. William Angel, 8. Jason Madonis, 9. Radovan Pavicevic (12. Yu Kuboki 61'), 14. Max Burgess, 19. Burgess, 24. Hagi Gligor, 33. Niko Tsattalios, 99. Paul Katsetis,
Substitutes not used: 3. Ezequiel Consoni, 25. Mark Rodic, 4. Thomas Whiteside
Yellow Cards: Max Burgess 21', Madonis 58'
Red Cards: Nil
Player Ratings
3 – Alec Urosevski (RCS)
2 – Paul Henderson (SO)
1 – Daniel Petkovski (RCS)
–by Joe Russo, PlayStation®National Premier Leagues NSW Men's 1 Reporter, at Ilinden Sports Centre, Rockdale
Rockdale City Suns Football Club – Ilinden vs Sydney Olympic FC (Photos by loopii for Football NSW) #PS4NPLNSW