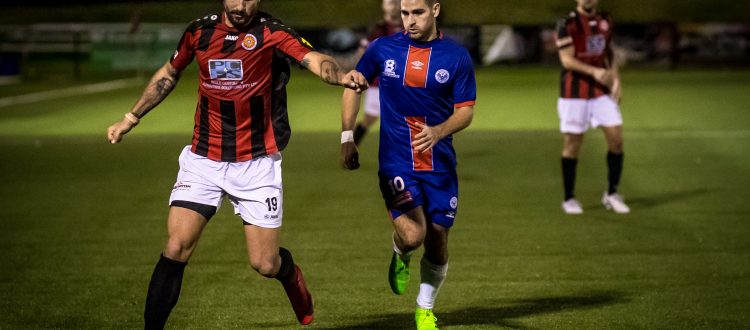 A Harris Gaitatzis double has helped Rockdale City Suns return to the winners circle with a hard fought 4-3 victory against Manly United at Ilinden Sports Centre.
Rockdale were forced to hold off a fast finishing Manly side after racing to a 3-1 lead in just over 45 minutes of action.
It was a game that took a while to get going but in the end it produced seven quality goals.
Manly United took the lead through Brendan Cholakian but Aleks Canak and Toufic Alameddine both scored for the home side prior to the break.
Rockdale consolidated their lead early in the second half through Gaitatzis but ex-Suns attacker Dylan Macallister hit back for the visitors to make it 3-2.
However, Gaitatzis scored again before a late consolidation goal to Manly United rounded out the score line.
The first real chance of the game didn't eventuate though until the 21st minute when Kieran Paull went through the middle for the visitors and found Scott Balderson on the right, but his dangerous cross went across the entire face of goal without troubling anyone in particular.
Some lovely work by Sasa Macura in the 29th minute could have been so much more when he ran half the length of the field and centred the ball with a nice touch, but somehow the Rockdale defence managed to knock it wide for a goal kick.
However, Manly United were not to be denied from the subsequent corner that seemed to innocuously avoid all and sundry but not Brendan Cholakian, unmarked, who headed in at the far post.
Rockdale City hit back in the 35th minute after some confusion in the Manly defence and a poor clearance from 'keeper Dylan Mitchell.
It was left to Harris Gaitatzis who squared the ball from the right for Aleks Canak and he rarely misses such a gift and certainly didn't do so this time. His shot was always destined to go into the back of the net.
In the 41st minute there was a double chance for Rockdale City Suns. The first shot was from Alec Urosevski but Mitchell managed to block without holding; the second attempt was a scramble in the box from close range that saw Gaitatzis denied by a brave Jamie Lobb who put his body on the line.
Right at the end of the first half the home side took the lead when Idriss El Hafiane found an unmarked Toufic Alameddine who, with a powerful low drive, forced the ball through the hands of goalkeeper Mitchell.
And even more spectacularly well into stoppage time Alameddine could have made it three when, from the left and with Mitchell well off his line, his spectacular attempt hit the crossbar.
It would have indeed been a goal for the end-of-year highlights package.
In the second half Rockdale City Suns did make it three in the 49th minute when Patrick Savor laid the ball off for Gaitatzis who, from just outside the box, hit a screamer that ended up in the top corner of the net.
Manly United got one back in the 64th minute when a cross from Brayden Cheng found Dylan Macallister totally unmarked and the experienced campaigner, against his former club, easily slotted home. It was poor defending if anything from the home side that contributed to that goal.
Harris Gaitatzis scored his second goal of the night in the 81st minute when substitute Bai Antoniou fed the ball across to him and he lined up the goal before finding the back of the net with a nice diagonal shot.
Right at the death Jonathan Grozdanovski made a beautiful run down the flank before directly firing at goal but somehow Mitchell pulled off a spectacular one-handed block.
It could have been five there and then but four would certainly suffice even though in the 95th minute Mitchell Rooke from a free-kick outside the box directly hit the target to score Manly United's third.
After the game Rockdale City's coach Paul Reid was combination of a relieved and a happy man.
"I wasn't our best performance but we have scored four," he said.
"We probably had more chances in other games but we did take our chances today.
"I am just happy that the final whistle has gone. We were comfortable in the second half and we had a two goal lead twice but we let them back in it.
"It's a clean sweep for us today for the Club Championship which is always a bonus.
However, we need to give teams less chances and I am sure Paul Dee will be disappointed that he hasn't come away with a result but I am not going to complain."
And indeed Paul Dee, Manly United's coach, thought that he should have had something from such a high-quality encounter.
"We were very comfortable in the first forty minutes and it was a well-executed game plan but we just conceded two horrible, late goals in the first half and that swings the momentum," he stated.
"We came here and were confident with our game plan. We were looking for three points and we were not sitting back playing for a draw.
"The first half went well for us, but conceding silly goals that lets teams back into games is a pattern for our season and we have done it too often."
Match Stats
Rockdale City Suns: 4 (Canak 35', Alameddine 45', Gaitatzis 49' & 81')
Manly United: 3 (Cholakian 31', McAllister 64', Rooke 95')
Sunday, 1st July 2018
Ilinden Sports Centre, Rockdale
Referee: Tim Danaskos
Assistant Referees: Lance Greenshields, Daniel Stack
Fourth Official: Jarred McFarlane
ROCKDALE CITY SUNS: 1. Ante Covic, 2. Daniel Petkovksi, 4. Trent McClenahan, 6. Blake Ricciuto, 7. Alec Urosevski (9. Bai Antoniou 78'), 8. Aleks Canak (11. Jonathan Grozdanovski 74'), 10. Harris Gaitatzis, 12. Idriss El Hafiane, 14. Brayden Sorge, 17. Toufic Alameddine (23. Jordan Figon 89'), 19. Patrick Savor.
Substitutes not used: 3. Steven Hesketh, 25. Jake Soutter
Yellow Cards: Canak 16', McClenahan 62', El Hafiane 71'
Red Card: Nil
MANLY UNITED FC: 1. Dylan Mitchell, 2. Kieran Paull, 3. Jamie Lobb (5. Sam Wilson 58'), 4. Travis Oughtred, 6. Dominic Ferguson (12. Leigh Egger 75'), 8. Sasa Macura (7. Brayden Cheng 58'), 9. Dylan Macallister, 10. Brendan Cholakian, 13. Scott Balderson, 14. Mitchell Rooke, 23. Daniel Alessi.
Substitutes not used: 17. Gianni Stensness, 20. Sean Catlin
Yellow Cards: Nil