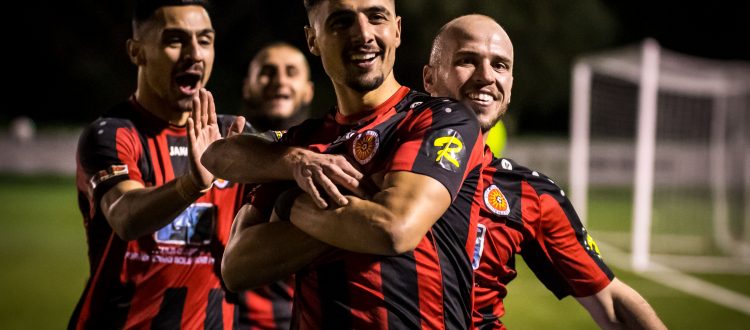 Big win last night at home over Sydney Olympic which moves our boys into outright 5th position on the ladder.
Full match report below!
__________________________________________________________________________________________________
OLYMPIC ECLIPSED BY HUNGRY SUNS
A 77th minute Alec Urosevski strike has helped Rockdale City Suns stun league leaders Sydney Olympic at Ilinden Sports Centre on Sunday.
Urosevski's goal came late in the game, sending Rockdale fans into raptures after what had been a relentless battle between the two teams.
It was an important win for the Sun's against their rivals, keeping their finals hopes alive and knocking Olympic from the top spot on the ladder.
The action went from end to end in the opening stanza with neither Olympic or the Suns able to make their mark on the clash.
Jinya An had Olympic's first chance in the 14th minute, travelling through Rockdale's defence to let off a shot outside the box, which flew wide of the goal.
Rockdale's Harris Gaitatzis retaliated minutes later, sending a solid strike into the arms of Olympic custodian Paul Henderson in the 19th minute.
After a slow first half, both teams came out firing in the second stanza, battling until the final whistle.
Toufic Alameddine set a spark to the second half, using his pace to create an opportunity for the hosts in the 48thminute.
He worked his way through open space to position himself dangerously, but Olympic's Nikola Kuleski matched his pace to clear the ball for a corner and deny an opener.
Alameddine created another opportunity in the 61st minute, sending a shot towards Henderson, who collected to keep the game scoreless.
Max Burgess would have taken the lead for Olympic in the 62nd minute, if not for the brilliant reaction of Ante Covic.
Burgess let off a strike from close range after some movement inside the box, but Covic managed a sensational save to deny Olympic the opener.
The turning point of the game came for Rockdale in the 79th minute with Alec Urosevski capitalising on a rebound from Paul Henderson to hit the back of the net.
Henderson managed to deny Rockdale their first opportunity, but the rebound fell dangerously to Urosevski, who put it away neatly.
A desperate Olympic pushed hard in the dying stages for a winner but it was too little too late as Rockdale clung on for victory.
Olympic coach, Abbas Saad, expressed his disappointment in what was a very physical game.
"We battled, and we created some good chances and good moments, but we just weren't clinical enough.
"Both teams were hungry enough to win the game.
"Sometimes it only takes on mistake and we made that mistake."
Rockdale coach, Paul Reid, was happy to take three points from Olympic, praising his team's performance in the match.
"I thought we thoroughly deserved the win," Reid said.
"We knew it was going to be tough, but the boys were brilliant today.
"It's two wins in a row now, we've got a week off and we've got a few sore boys, but they'll have plenty of time to rest now and be ready to back up against Marconi in a couple of weeks.
Match Stats
Rockdale City Suns 1 (Alec Urosevski 77′)
Sydney Olympic FC 0 
Sunday 8th July, 2018
Ilinden Sports Centre
Referee: Craig FIsher
Rockdale City Suns FC: 1. Ante Covic, 2. Daniel Petkovski, 4. Trent Mcclenahan, 6. Blake Ricciuto, 7. Alex Urosevski, 8. Aleksandar Canak (9. Bai Antoniou 67'), 10. Harris Gaitatzis (21. Michael Neill 90'), 12. Idriss El Hafiane, 14. Brayden Sorge, 17. Toufic Alameddine, 19. Patrick Savor (23. Jordan Figon 57')
Substitutes Not Used: 11. Jonathan Grozdanovski, 25. Jake Soutter
Yellow Cards: Patrick Savor, Brayden Sorge, Daniel Petkovski
Red Cards: Nil
Sydney Olympic FC: 1. Paul Henderson, 2. Tom Whiteside, 6. Nikola Kuleski, 7. William Angel, 9. Radovan Pavicevic (33. Nikolas Tsattalios 76'), 10. Max Burgess, 11. Jinya An, 14. Alejandro Sanchez Lopez, 18. Brendan Hooper, 19. Darcy Burgess (5. James Demetriou 76'), 23. Riley Woodcock
Substitutes Not Used: 20. Ezequiel Consoni, 21. Stephen Athanaseris, 26. Billy Patramanis,
Yellow Cards: Max Burgess, Will Angel
Red Cards: Nil