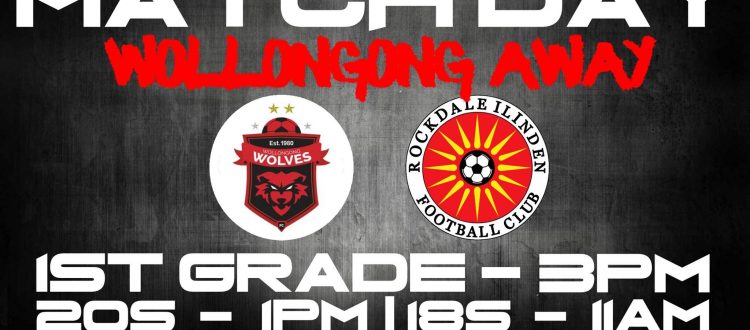 Tashiro at the double as Wolves down Suns
A Yuzo Tashiro double gave Wollongong Wolves a crucial 2-0 win against Rockdale City Suns during their PlayStation®4 National Premier Leagues NSW Men's clash with former Central Coast Mariners skipper Nick Montgomery making his debut for the home side at WIN Stadium on Sunday.
The former Japan international striker wasn't going to let the Wolves fall to their third consecutive loss and delivered a starring role in the win as his side picked up a much needed three competition points,
For the second straight week, Rockdale was well below their best as they suffered only their second loss of the season.
It was a cagey opening to the match with neither side giving much away.
Rockdale's Jordan Figon was presented the first opportunity when his early shot deflected wide for a corner.
Wollongong's Josh Macdonald had a great chance up the other end only moments later when he was unable to beat Ante Covic after running onto a cutting through ball.
Pat Antelmi nearly snuck in a goal on the cusp of half-time but Covic was alert to the threat.
The second half started at a quicker pace and the home side capitalised to break the deadlock.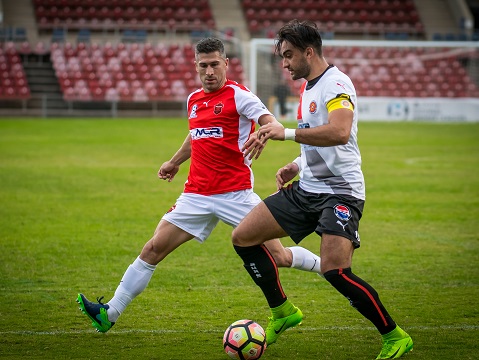 A clever cross from the right by Josh Macdonald found Tashiro on the penalty spot. The Japanese striker was never going to miss with his shot calmly slotted into the bottom left-hand corner of the net.
The Wolves looked to double their lead and nearly did so with an Antelmi free kick. However, Covic was up to the challenge once again.
Justin Pasfield was required to make an acrobatic save for Wollongong to deny a powerful shot from Figon.
The home side looked to frustrate the visitors with only long shots from Griffin and Antelmi causing any worry for Covic.
Tashiro wrapped up his brace when he headed in from the far post from a delightful Macdonald cross from the left.
The last shot came from Paul Reid who blasted well over the bar from close range. It was a moment which summed up the visitor's afternoon.
Wolves Coach Jacob Timpano praised the way his team bounced back from their defeat last round.
"It is good to turn it around from last week, we deserved the win," he said.
"We had the better chances and our strikers were clinical."
Match Stats
Wollongong Wolves: 2 (Yuzo Tashiro 46' 81)
Rockdale City Suns: 0
Sunday 14th May 2017
Win Stadium, Wollongong
Referee: J. Tesoriero
Assistant Referees: L Welsh & J. Bell
Fourth Official: H. Carwardine
Wollongong Wolves: 1. Justin Pasfield, 3. Darcy Madden, 4. Hayden Morton, 7. Christopher Price, 8. Brendan Griffin, 9. Peter Simonoski (88' Nicholas Bernal), 11. Michael Robinson, 14. Josh Macdonald, 15. Nicholas Montgomery, 16. Patrick Antelmi, 30. Yuzo Tashiro (84' 21. Brett Wilson)
Substitutes Not Used: 5. James Baldacchino, 12. Luke Kairies, 18. Nicholas Bernal, 21. Brett Wilson, 23. Steve Hayes.
Yellow Cards:
Red Cards:
Rockdale City Suns: 22. Ante Covic, 2. Daniel Petkovski, 4. Trent McClenahan (84 11. Jonathan Grozdanovski), 5. Paul Reid, 6. Blake Ricciuto, 7. Alec Urosevski, 8. Aleksandar Canak, 10. Harris Gaitatzis, 14. Brayden Sorge, 19. Patrick Savor (34' 3. Steven Hesketh), 23. Jordan Figon
Substitutes Not Used: 1. David Bradasevic, 16. Isaac Savor, 17. Toufic Alameddine.
Yellow Cards: Jordan Figon,
Red Cards:
Player Ratings:
3- Yuzo Tashiro (WW)
2- Josh Macdonald (WW)
1- Jordan Figon (RCS)
-By Justin Smith, PlayStation®4 National Premier Leagues NSW Men's Reporter
Coming This Wednesday Night at the Ilinden Sports Centre:
FFA Cup qualifier: Rockdale v Marconi
Wednesday 17 May 2017
Rockdale – Ilinden Sports Centre
7:30pm kickoff
Free entry. Come on down.