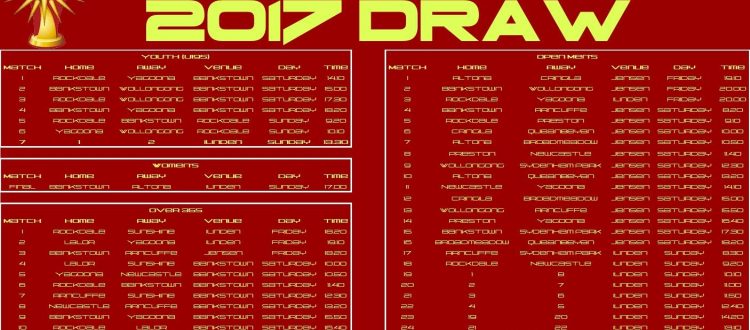 MASO CUP 2017 at ILINDEN SPORTS CENTRE
Maso Cup 2017 annual tournament is only one week away.  This years much-anticipated tournament will be hosted by the two largest Sydney-based National Premier League Clubs- Rockdale City Suns FC and Bankstown City Lions FC.
The 2017 edition of the Maso Cup will be held in Sydney on Friday 27th January, Saturday 28th January and Sunday 29th January. The tournament will have a joint opening on Friday night – 27th January – at both Ilinden Sports Centre at Rockdale and Jensen Park at Bankstown.
On Saturday 28th January, all matches will be held at Jensen Park, with the final group matches and finals series of each of the divisions will be held at Ilinden Sports Centre on Sunday 29th of January where the Maso Cup 2017 winners, from each age group, will also be crowned.
The participating clubs for this year's Maso Cup are; Rockdale City Suns FC, Bankstown City Lions FC, Altona Magic SC, Preston Lions FC, Sydenham Park SC, Lalor Utd Sloga F.C, Broadmeadow Magic FC, Newcastle Suns FC, Queanbeyan City FC, Sunshine Lions FC, Arncliffe Scots FC, Cringila Lions FC, Yagoona Lions FC and Wollongong United FC. A late edition to the women's comp is Illawarra Stingrays who hold the Women's Cup from 2016.
The Suns are also pleased to announce the new partnership with Flip TV who will be the official broadcast partner of 2017 Maso Cup and major sponsor of Rockdale Ilinden Football Club.
Football fans wanting to watch the 2017 Maso Cup and NPL NSW games but can't make it to the grounds, can subscribe to any of Flip TV's Balkan* ( Macedonian, Serbian, Croatian and Bosnian ) packages from $9.95 per month.
Customers can connect to Flip TV by visiting www.fliptv.com.au or calling 1300 354 788.
Also, don't miss out on the Maso Cup Ball which will be held at the Ilinden Sports Centre on Saturday night – 7pm start. Tickets are $80 per person which includes;
4-course meal including seafood platters
Beer, wine, scotch and other drinks all night
Live entertainment
Limited tables remain for the Ball, so get your tickets NOW!
Note: The information is for activity at Rockdale Ilinden Sports Centre only.